Oddfellow's Casino: Prince of the Starry Wheel (Nightjar Records)
Brightonian diviners of atmospheric folktronica return with superb new set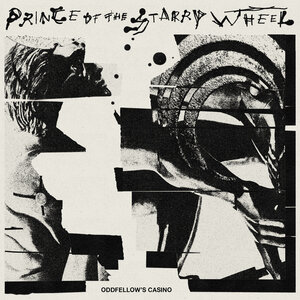 Memorably described by The Quietus as a band that "joins the dots between Pentangle and The Pet Shop Boys", Brighton-based veterans
Oddfellow's Casino
move confidently into their 21st year with this beautiful ninth studio album.
As anyone lucky enough to have attended his monthly Catalyst Club nights in Sussex – or delved into the book/films linked to his
The No. 9 Bus To Utopia
project - the band's founder David Bramwell is a man with a deep love for revealing interesting facets of the world – such as naming this latest album after one of various names William Blake applied to Isaac Newton (along with Urizen and Satan!)...
Despite the starry theme of its title, the band describe the album as a thing of "Earth, pathways, marching feet, burials and the passing of time", expressed through their trademark folktronica melange of Moog, brass and strings with shoegaze guitar and drone.
But don't be lulled into associating folktronica with feyness. The opening track Trespass, for example, is a call to battle for land rights facing the threat of further erosion from officialdom and greedy landowners – wrapping its nods to key protests of the past in a distinctive mix of creamy keyboard and angular distorted vocals.
The mix of ambient and sharper muscularity appears throughout – nowhere better than Beware The Autumn People, a 12-minute epic drawing on the scarier writings of Ray Bradbury (
Fahrenheit 451
) while fusing gorgeous melodic electronic layers, haunted echoing vocals and thrilling cut-loose guitar and brass breaks.
Tracks also regularly show off a way with deft poetic imagery in delving the emotions of engagement between people, past and present, and the landscape around. Some of the finest examples come in the 10-minute The Quiet Man And His Dutch Wife – a pensive reflection on a couple facing the passing of time, wrapped in a complex instrumental weave offering up images of sitting by a fire with "
Two wet dogs and an old settee
" in a world where "
Somewhere in the night Venus glows in the half light
".
Elsewhere, there's beautiful folky melancholia in Ameland, contrasting with the restless guitar-led churn of Emily. The band also find dark undertones in their cover of Melanie's 1972 song Summer Weaving.
You can see why critics have reeled off comparisons to everyone from Tunng and late period Talk Talk to The Beta Band, but in the end let's just celebrate how Oddfellow's Casino continue to bring diverse pleasures while ploughing their own rich Sussex furrow.
4/5