North Sea Radio Orchestra - I A Moon (The Household Mark)
Alternative chamber music never sounded so good.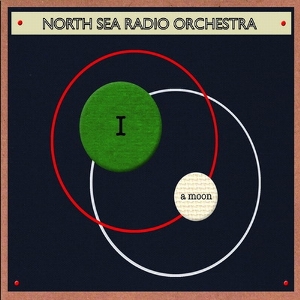 This is as far from the sweaty abandon of rock'n'roll as you can get.
North Sea Radio Orchestra
was founded by composer / songwriter Craig Fortnam as a reaction to playing beery pub gigs where the audience was more interested in talking than listening.
In riposte, Fortnam formed this impossible-to-categorise "alternative chamber music" outfit, which prefers playing in art galleries and churches, with good acoustics and appreciative audiences, than the sticky-floored dives beloved of your average indie kid. This album's eclectic instrumentation includes violin, viola, cello, bassoon and clarinet, along with the proudly medieval hurdy gurdy, and the exotic-sounding philicorda and monosynth.
For the first time, this third album sees Fortnam's wife Sharron lend her sweetly folky tones to his original lyrics: previously the group had provided musical settings to source material as varied as William Blake poems… and trippy cult 70s kids programme The Clangers (!).
Nestling among several instrumentals, many of the lyrics, in their poetic and allusive way, concern the seemingly incurable illness of Fortnam's good friend Tim Smith, frontman of cult punky prog act the Cardiacs. 'The Earth Beneath Our Feet' and 'When Things Fall Apart', in particular, portray looking down on the world from a detached viewpoint, seeing it as something you can no longer control (Smith has suffered several strokes), and attempting to find some solace and transcendence in this awful situation.
But if this all sounds a bit worthy and depressing, don't fret. Yes, it's exceptionally well-played and tastefully arranged, but
I A Moon
has a bucketload of intriguing influences. Tasteful string arrangements reminiscent of Vaughn Williams or Benjamin Britten's English pastoral classicism, are mashed up with ace twinkling, proggy snyths, spooky Wicker Man paganism and clear-eyed folky beauty – sometimes in the course of the same song.
Opener 'Morpheus Miracle Worker' is ethereally lovely, like a young Kate Bush playing A Midsummer Night's Dream in a moonlit wood. Sexy, mysterious, theatrical and witchy ("if we could freeze our dreams and make them real…"), it promises a greatness that the album sometimes hints at, but doesn't quite deliver.
Elsewhere, short but haunting musical interludes ('Guitar Miniature #3', 'Morpheus Drone') alternate with folky pieces and longer instrumentals. 'Heavy Weather's maritime-themed duet is pulsingly intriguing, but doesn't progress enough to justify its eight minutes running time.
While never less than an appealing listen, it's when the group gets spooky and slightly weird (as on 'I A Moon's proggy medievalism) that this music really hits home. But to synthesise so many ideas, and create such an accessible and classy album – rather than a dog's dinner - is no mean feat.
North Sea Radio Orchestra Links