NOFX: Double Album (Fat Wreck Chords)
Album number fifteen from the US punk legends, they're pushing sixty and doing just fine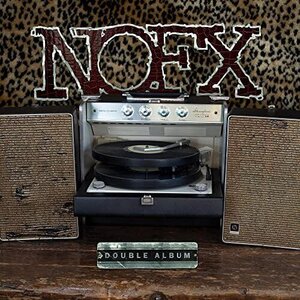 Don't count on
NOFX
. That's what lead singer/songwriter Fat Mike Burkett tells us on this latest album. The LA punkers have lived this for decades, from Burkett
urinating in a bottle of tequila while dressed as Cokie The Clown
to, most recently, announcing their retirement via Instagram in response to a fan Q&A session. You can never sit still with NOFX, which has made them one of the most compelling punk acts of the last near-forty years.
Double Album
is a companion to 2021's
Single Album
. Burkett had written all the material some time ago, originally wanting to release a double-length record but, after sharing it with friends, he didn't think he had enough quality to fill four sides. The band noodled away on sides three and four and came back with
Double Album
. As for quality, there is plenty on here: opener Darby Crashing Your Party brings the speedy sound of albums like
Punk in Drublic
and
Pump Up the Valuum
while Three Against Me rifles through Burkett's unhappy childhood and Don't Count On Me juxtaposes song and comedy with a punchline that is genuinely laugh-out-loud funny.
NOFX don't want to be taken too seriously. If you've ever been a fan of theirs at any point in their career, you'll already know this. But it's hard not to take seriously a band as accomplished as NOFX after forty years of hard graft. Some of the classic sounds revisited on this album bring to mind how much trail they've blazed: Burkett's hollowed-out bassline kicks like a stick again a drainpipe and Eric Melvin and El Hefe's guitars harmonise like laser beams in a 1980s space opera. It's a joy to be back in a NOFX album, and so soon after the last one. Nevertheless, after nearly four decades, they continue to battle with imposter syndrome (guitarist El Hefe of still being "the new guy" after joining the band in 1991 and Burkett unwilling to ever go to bat for himself).
It's a risk to make a double album. Burkett himself notes that there are very few successful doubles – maybe only
The Wall
and
Quadrophenia
. The Beatles' White Album, a clear omission from Burkett's short list, looms large over the first track in its punk rock memorialisation. As
Hanif Abdurraqib reported
on his
Lost Notes
programme, when Darby Crash of The Germs committed suicide on 7th December 1980, radio stations across the USA and worldwide were preparing to play tribute shows to one of punk rock's biggest icons. This all changed the very next day, however, when Mark David Chapman murdered John Lennon outside his Dakota residence in New York City. Stations quickly scrubbed any plans for Crash and focused on the fallen Beatle. Abdurraqib questions whether Crash's star, and that of punk rock as a genre, would have shone brighter had the world's most famous singer not died the very next night. Perhaps this is part of the legacy for punk music, and for NOFX: not to take itself too seriously because there will always be a bigger, more serious musician who can snatch the spotlight from you.
Still, NOFX get serious anyway. Yes, there are plenty of laughs (Burkett's offensive tribute to Stephen Hawking and telling El Hefe that, in the future, there will be no Mexicans in space), but over the years they haven't shied away from digging through the dirt. On My Favourite Enemy, Burkett laments that he can never trust himself not to sabotage his own life, while on Don't Count On Me he shoves himself to one side, observing those friends who are able help one another, be there for each other, knowing that he's incapable of doing that for them, instead far more likely to clown around to the point of annoyance – even on the song itself, just when you think they've finished the track and moved on, Burkett reveals that the reggae rhythms they're playing now are from the same song and, by the way, here are those same lyrics again. Don't count on this band to be there when you need them. Don't even count on them to stick with you on a song because they'll deliberately mess you around. By the time we get to Three Against Me, it's clear where this self-sabotage and aversion to closeness has come from. Burkett says, at the beginning of this record, "
I wasn't born this way, I was raised
", and on Three Against Me, he recounts how his brothers bullied and hazed him to the point of abuse and how his family wanted nothing to do with him when he revealed that he was queer, even going so far as to erase him from his father's obituary.
As a child, Burkett had to fight to stay alive – even against himself, wanting to end it all since that was easier than continuing. This can turn some people into carers and, for others, it can lead to self-preservation. For Burkett, it was the latter. He pranked, a lot. He's famous for it, the most notable one the aforementioned tequila-piss Cokie the Clown. On this record, Burkett says he'll always be his enemy, his inner saboteur. When you're told throughout your childhood that you're not good enough, or even that your reality disgusts your family, you're going to find it hard not to internalise that. Burkett let the parents and siblings in his life deem his self-worth, but as a mid-50s adult with millions of fans worldwide, leading a band that gained success and kept it while never joining a major label, Burkett needs to show himself the love that he so desperately needs, that he didn't get when he was at his most vulnerable.
Externally, Burkett and co. are going to receive all that love and more when they tour for the final time in 2023 and 2024. They still have more albums in the works, too –
Half Album
, to compliment
Single
and
Double
, plus another full-length to be released during their final tour. Towards the end of this record, Burkett cries out against the obituary that's missing his name: "
You can't erase me!
" After everything this band has done for punk rock and DIY music, and all of the love that is already pouring out via social media, there is very little chance of that ever happening. Still, the next chapter, when the doors finally close on this forty-plus-year journey, may be the hardest one yet for the LA four-piece: showing themselves the love that, for decades, the rest of us have always known they deserve.
4/5