Neil Cowley Trio: Spacebound Apes (Hide Inside Records)
It comes with all manner of multi-media jiggery-pokery. But, stripped of all its interactive finery, does this high-concept cinematic soundscape stand up?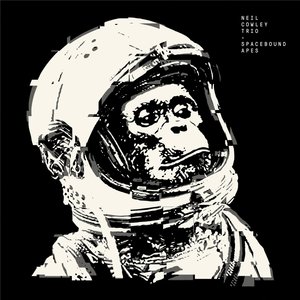 A childhood classical prodigy turned chill-out producer, jazz musician and collaborator with the likes of Adele, studio wunderkind Neil Cowley has also found time to keep a solo career going. With this, his sixth album, he's really pulled out all the stops in an attempt to attract generation ADD. To say this unabashed concept album comes with added bells and whistles is putting it mildly...
'Spacebound Apes' is... (deep breath): an album, an interactive website, a deluxe illustrated music book and a months-long Tumblr diary. Inspired by the Arthur C Clarke story The City and the Stars, it tells the story of Lincoln, an intelligent chimpanzee who flies into space and must face his fears. It seems a shame that nowadays, many artists don't feel that releasing music on its own is enough. In 2016's crowded, attention-deficient marketplace, Cowley may be right. But, if we push all that other stuff to one side, is this album strong enough on its own terms?
It essentially works in two modes. There are several ambient/classical pieces, with delicate piano and occasional dubsteppy touches, which signal the involvement of Brian Eno collaborator Leo Abrahams (guitar and FX). The likes of symphonic opener Weightless, and the hymnal, delicate Grace, feature simple emotive chords echoing in empty space. This approach effectively portrays a vast echoing void onto which Lincoln - and every astronaut - projects his hopes and fears.
Most of the other tracks are more upbeat, jazzier and more fully orchestrated. The likes of Governance and the noirish spy film vibe of album highlight The Sharks of Competition feature hookier melodies, a faster tempo and create a feeling of conflict. Maybe Lincoln isn't as alone as he first thought... Elsewhere, a sense of artificial lifeforms pervades the synth-strafed Garden of Love, while swelling strings and distant tom-toms make the alarmingly titled Death of Amygdala the most filmic track of all.
Some pieces - such as Hubris Major and Echo Nebula - are less memorable, but overall this is a melodically accessible, emotive work. However, it would be a more engaging listen if the music captured more of the quirky humour evident behind the album's concept. You long to hear what The Orb's space-obsessed Alex Paterson, for instance, would have done with the concept.
As it is, 'Spacebound Apes' is a nice, spacey listen - but it's not out of this world.