Mr. Vast - Touch and Go (Cack Records)
It's a mixed bag of nuts and no mistake. But this spin-off album from absurdist troupe Wevie Stonder is a right old laff.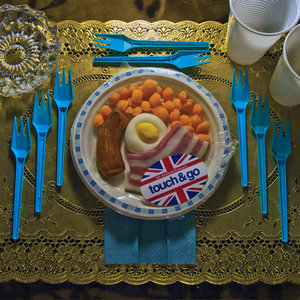 Plenty of 'serious' music has a sense of humour (The Beatles' whimsy and Dylan's shaggy dog stories, f'rinstance), but overtly humorous music often ends up sounding grating and annoying - probably great fun to make, but less enjoyable to listen to. However, in the right hands, the combination can be joyous. Scouse absurdists Half Man Half Biscuit have been funny as hell for three decades now, and last year's Brother JT album was a sleazy, 70s rock-inspired delight. Now, two members of veteran 'absurdist electronic music collective' Wevie Stonder have come up with one of the most grin-inducing albums for many a moon.
Mr. Vast
consist of Henry 'Mr' Vast on vocals, and - playing a blinder - Al 'Percy' Boorman QC twiddling the knobs. If they were a chemical element, they'd be highly unstable: over the course of ten tracks we are treated to slow R'n'B jams, psych-folk, pulsing electro funk, bucolic 60s pop and some plain old uncategorisable weirdness. As all Beastie Boys fans will know, there's something particularly entertaining about clever people acting stoopid.
Boorman presses the 'tacky' button on occasion - we could probably live without 'hold my balls' country pastiche 'Testify' - but the best moments occur when the lyrical oddness is juxtaposed with music that plays it relatively straight. Opener 'Touch and Go' is a fat-ass Rappers Delight groove; 'Back to the Buffer' combines Prince-esque falsetto, Issac Hayes horn stabs and woozy G-funk synths; while the bucolic psych-pop of 'Golden Tooth' is like a sedated Bobby Gillespie singing Beck. Luvverly.
Generally, the funkier the better. The electro vibe of 'Problems with the Light' and 'Split the Difference''s metaphysical brain-hop both hit the spot. And the whimsical closer 'Bottle Nose' (
'I rode a mammoth at the museum...'
), with its beautiful strings, would fit in nicely on Julian Cope's mid-80s out-of-time masterpiece
Fried
.
Over the course of the album, Mr. Vast muse on such weighty matters as the death of bees and how 'meditation makes me horny'. Determinedly silly, very likely stoned, and resolutely slack ('Bottle Nose' boasts of making 'minimum effort for maximum effect'), their real peers are the great English eccentrics like Viv Stanshall, Monty Python and The Mighty Boosh.
Touch and Go
is basically a collection of musical sketches and, as such, is invariably somewhat hit and miss - but the hit ratio is pretty high. It's not going to be to everyone's taste. But if you dig a certain amount of childishness and puerile humour, then listening to other people twatting around has rarely been so much fun.