Mountain Cloth – Haircutter (Giant Manilow)
Strange turns of phrase and ruthlessly short songs permeate Mountain Cloth's second release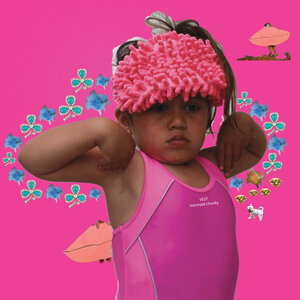 With a sound that's slightly off centre, at times erratic and at the same time fresh and clean
Mountain Cloth
present their sophomore album
Haircutter
to the UK from Norway. When the album starts with 'Get Paid to the Sea' – the scene is very Norwegian. There's a blue coolness to the atmosphere and as the lyrics talk about "white knuckling" through life and having "no hassle bro" there's a clear leaning towards slipping into relaxation.
As the album develops, the lyrical content is evidently psychedelic. Songs painting a picture of wasps calling in summer and then others using the opening and closing of a swimming pool to describe breaking minor laws and going against the grain "instead of sticking to the worksheets". These are well-planned thoughts from lead singer and guitarist Bryn Bowen (also of British band The Chalfonts) and I'm probably missing most of their meaning. But even without a deeper understanding of everything the turn of phrase such as "nineteen – and that's the best configuration yet", are still pleasing to listen to and think about.
While the album is very much a Norwegian experiment at home in its underground, Bowen's roots in the UK mean that thoughts aren't limited to Scandinavia. A single daydream happens to break up songs. Referencing back to the 90s when on a frequent Birmingham bus service, listening to music and humping pillows to the girls in academic years above him.
There are a few more side notes, and as short as they are they are not much shorter than the tracks themselves. Brain dump 'Mud' is perfectly short and longing – not even breaking the one minute barrier. Presumably it is a mention of either the longing to be covered in someone else's impulses or issues. And lead single 'Phantom or Drone' doesn't exceed two minutes. However, there is a lot crammed in an urge to make sure that little is repeated. It's a concise offering by wasting no time in building up or sending in a frenetic, metal tipped guitar line, riff or progression.
However, no matter how short – nine tracks are zipped through in about 20 minutes – cryptic, frenetic or loose the guitar on this album is, Mountain Cloth's second release doesn't come off as rushed. In fact, the stand out songs 'Mud', 'Phantom or Drone' and 'Your Boy The Fleece' are carefully produced, melodically varied and yet ruthlessly cut down. At times it seems that Mountain Cloth fears that if they were to repeat or wind up a chorus line too much they might start to lose patience and get bored of the melody before they have even released it to the public. But there's no lack of enjoyment here. Listen a couple of times and you'll find yourself stuck with one of those turns of phrase lodged in your brain and while short, they will creep up on you.
Photo credit: Linn Heidi Stokkedal