Mike Marlin - Nearly Man (AMP)
Burly, bearded and in his middle years, Mike Marlin is not your typical music biz debutante. As his lyrics confess, this brainy underachiever has had 25 years to stew in his own disappointment: after dropping out of Oxford University, Marlin has spent years writing computer code, recording his own songs and playing bass in bands that never made it.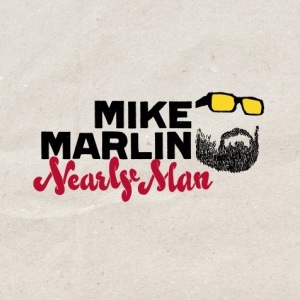 At long last, Marlin has a break – one of HMV's 'Next Big Things', he supports The Stranglers on their upcoming UK tour. His record company claims he is influenced by a host of post-punk acts: Echo and the Bunnymen, Elvis Costello etc. But in truth he sounds like 80s-vintage David Bowie … sometimes to a ridiculous extent.
Marlin has a decent baritone, and for much of the time he deploys it in that unmistakable, affected tone that is instantly recognisable to anyone who has ever owned a radio. This is not necessarily a bad thing – after all, Suede made a career of ripping off Bowie (admittedly, the Diamond Dogs '74 vintage). But not content to 'borrow' his vocal mannerisms on the likes of 'Play That Game', Marlin also throws in those sardonic Bowie backing vocals… and even his sax solos.
The album's lyrics muse on troubled father/son relationships and underachievement and the necessary coping strategies; and give sardonic advice of all stripes. The music is competent, melodic, and unashamedly hooky. There's no shortage of big choruses and hummable bits here, although there is a definite feeling of timewarp going on.
If this was the late 80s or 90s, you could see this muscular, vaguely alternative but commercial, polished big rock sound doing well. Often, it's not a million miles from the likes of Mansun (remember them?). To these ears, some strong song ideas are hampered by the rather dated, airless production (big thumping drums, anthemic keyboards etc).
There are definitely some strong ideas here. 'Undercover Genius' muses on underachievement to the accompaniment of a tinny drum machine and xylophone, its string outro and Blur-esque glib/profound lyrics hitting the spot. The similarly regretful 'Second Son' is another highpoint. Melancholy and affecting, it and 'Guilty' ("I'm guilty of crimes against the state of me") drop the smart-arse lyrics and aim for the heart, not the head. As a result, they are more soulful, and lighter of touch, than the tracks which see the sometimes clever-clever Marlin wield his arsenal of mannerisms.
Elsewhere, 'No Place Like Home' audaciously revives the windswept 80s ballad, while quirky closing monologue 'Nearly Man' looks back at Marlin's childhood dreams.
Virtually every other musical idea of the 80s has been comprehensively recycled. Maybe now it's time for chunky, well-produced glossy alt-rock to make a comeback? If so, then this record – like a mid-80s Bowie album from a parallel universe – could make it big. But, next time round, Marlin might do well to spend less time sounding like his hero and more time sounding like himself.