Michael A Grammar – Michael A Grammar (Melodic)
A voyage of discovery, sounds of circumstance and fantastic submerging guitar work and vocals for the promising band from Brighton via the headspace of Madchester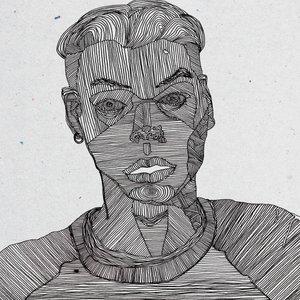 There is a hint of the Calvis, the Stone Roses and the early nineties shoegaze in
Michael A Grammar
's self-titled debut. It makes for some stand out songs, hard working guitar that commands a tip of the cap and deeply resonating vocals to put a boot in to the diaphragm.
As young as the band is, Michael A Grammar has already gone through some forced changes. Following the release of the first EP, Michael A Grammar's bassist was deported back to Kenya. Sad times. However, not to be deterred from the world of making music the remaining members "found Clementine (Blue) with her clothes off at a life drawing class and invited her into the family," as singer and guitarist Joel Sayers recalls – and so, a new bassist was found.
This album is very much a continuing adventure of discovery and definition. There is much variation between songs. As Sayers notes, "Each part of the album is an indicator of our present. Obviously, as things change so too does the music and the way its recorded." That is evident in songs such as 'The Day I Come Alive' which seems to be a leftover from their earlier development.
In its chorusing hollers and bright guitar 'The Day I Come Alive' is found a place that Michael A Grammar has progressed from as the band matures. It lacks the depth from other efforts. In contrast, 'King and Barnes' is a song that displays the filthy-bottom-feeding-gravel-eating vocal that drags and struggles to choke out the vocals "this is how it's meant to be." The level barely bobs above the bass mimicking darkness in the reflective lyrics.
'Light of a Darkness', despite its cheesy name, is a display of guitar work running into the same clean river of sound as Anna Calvi. Even in the solo where it all could go wrong it sings and jumps to pull on your heartstrings. There's also a wash of harmonising vocal, but is essentially a very promising show of dedication to the craft of a blues guitar.
The final third of the album – starting with Mondays, has been named collectively by the band as 'Lunar Sea.' – which is a lovely image – it's a stylish finish. Accomplished and polished, minus the unhinged bit of dirt from earlier stages of the album.
Much of Michael A Grammar's life so far has been a voyage of discovery, reinvention (in some parts due to necessity) adjustment and sounds of circumstance. All of those stages are tracked throughout an impressive, yet up and down debut.
There is great promise here, fantastic submerging guitar work and vocals just finding their feet. Despite a couple of noggin nodding riffs the most moreish parts of this album are to be found in the dirtier, unhinged efforts without repetition which the band seem to be running towards. But with a number of paths explored on this album it remains to be seen which one they will finally take.