Mice Parade - What It Means To Be Left Handed (FatCat)
What It Means To Be Left Handed is a unique hybrid of musical genres working to great effect, at times.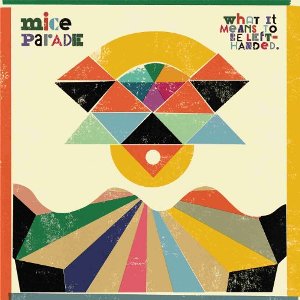 Mice Parade, led by multi-instrumentalist Adam Pierce, have occupied a unique musical space for over ten years now, embracing indie and post rock and some more exotic influences. The band's eighth studio album is peppered with influences from around the globe, and though Foals and Vampire Weekend have made "world" music hip,
What It Means To Be Left Handed
is a unique hybrid.
The record opens with a distinctly West African flavour at the fore, as Kora playing compliments fantastic drums and jaunty high life guitar. It could almost be the opening to Femi Kuti's new album, yet track number two introduces post rock grooves, only for the music to settle between acoustic rock and tropicalia. For a time at least.
An apparent refusal to embrace a coherent sound and direction is both stimulating and frustrating. The album is sometimes disjointed, and the quality of song writing begins to dwindle towards the end, yet there is some excellent music on offer here.
'Old Hat' is a fascinating wall of sound. Here arpeggio guitars create a soaring crescendo which merges East and West in a glorious tapestry of emotion. 'Recover' is more familiar Mice Parade territory, employing Caroline Lufkin's sweet vocal style, before another excellent post rock crescendo.
Disappointingly, 'Mallo Cup' could be a song by any number of mid-nineties indie bands, and its lacklustre drumming, and drippy vocal delivery would not be missed. Elsewhere, 'Tokyo Later Night' redeems this faux pas - "I'm waiting by the stairs, are you going up or down?", Pierce delivers his lines much like Ben Gibbard (The Postal Service), while an ascending piano riff and accented drums combine for the perfect thoughtful moment on a rainy day.
This is an album of contradictions, incorporating some highly inventive and colourful musical ideas with the occasional moment of blandness. Nevertheless, Pierce should be praised for his ambition and daring, and he has certainly achieved a highly original post rock sound.