Micachu & The Shapes w/ London Sinfonietta - Chopped And Screwed (Rough Trade)
Micachu And The Shapes team up with orchestra for ambitous record.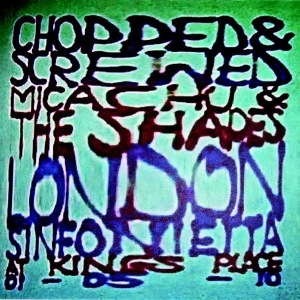 First of all I would like to point out that listeners of
Chopped and Screwed
shouldn't come looking for another
Jewellery
because you just won't find it amongst these scratchy noisome tracks. Here you will find few hooks, few short pop songs and definitely none of that 'Golden Phone' happiness. Whilst most bands given the chance to work with an orchestra will do nothing but add an epic quality to existing tracks,
Micachu and the Shapes
have gone the extra mile and come up with something completely different once again.
From the swaying opening of 'State of New York' right through to the microtonality and cracked vocals employed in finisher 'Not So Sure', surrealism and dissonance make this an album to be avoided by the faint of heart. There are a few features that carry over from previous ventures and the record is punctuated with percussion from various unorthodox sources in a classic Micachu style. Also on rare occasions a poppy hook can be detected. Take 'Low Dogg' for instance in which a catchy vocal melody is juxtaposed with a growling double bass and a violin which shrieks in pain.
Being no stranger to the orchestra or orchestral composition (Micachu herself was commissioned to write a piece for the London Philharmonic in 2008 and studied composition in London), extended performance techniques and instrumental interplay are highly utilised to create an interesting addition to the normal Shapes line-up.
The album's name
Chopped and Screwed
comes from a term used to describe a technique of remixing hip-hop records by slowing them down. This technique was greatly influenced by 'Purple Drank', a codeine-based cough syrup which slows the brain and creates an intoxicating effect. This is definitely audible within the album which almost entirely lacks energy or motivation but rather mopes around you with an insidious feel. On top of this, the addition of an orchestra actually creates a lot of space in the album. With regular sections where only one instrument is playing (such as large quantities of 'Medicine Drank' or the intro and outro to 'Fall') it often feels as though the instrument has been left limping in a slow gait behind the track.
Micachu and the Shapes really have hit quite a landmark with
Chopped and Screwed
. Perhaps hitting outer boundaries of how far pop techniques can be experimented with, they have achieved an impressive feat. However, this massive leap into such artsy territory does beg the question 'What will they do next?' Can they possibly push their sound into less explored territories? How far can they go before their music literally becomes unlistenable? Exciting and unnerving stuff indeed!
Micachu & The Shades w/ London Sinfonietta Links