Meursault - All Creatures Will Make Merry (Song By Toad)
The Scottish band's second outing is a piece of sheer beauty.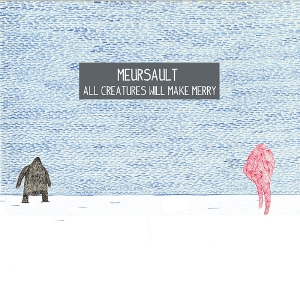 Edinburgh-based collective Meursault are an intriguing proposition. Despite their name presumably being a nod to Albert Camus'
The Stranger
, they arguably sound innately Scottish. This follow-up to their critically-acclaimed debut album,
Pissing On Bonfires/Kissing With Tongues
sees the seven-piece move away from the Arcade Fire comparisons which flew in from all directions after that first release.
Folk-inspired and electronically augmented, there's a quiet drama about Meursault's gloriously morose melodies which is matched by frontman Neil Pennycook's cracked, yelping tones. On
All Creatures Will Make Merry
there are a few nods to fellow Scots the Fence Collective in their homespun folk songs, which isn't surprising given that Pennycook has recently recorded an album with Fence stalwart King Creosote, under the moniker Cold Seeds.
But these acoustic touches, which flit between both rampant and meditative, are only part of their appeal. The haunting 'Weather' traces troubadour stylings and re-draws them in a peculiarly modern vision, with plaintive strings underpinning Pennycook's quiet but exasperated voice, while subtle flourishes ensure that repeated listens uncover new elements each time. A similar approach is employed on the lo-fi folk song 'One Day This'll All Be Fields', which is a stark and eerie strum, and also elegant.
Elsewhere, though, there are waves of static and rousing, electronic-fuelled gems which pulse with a grandiose energy. This is especially true on the skittering, skyscraping 'Crank Resolutions', which takes in slithers of post-rock and has more in common with the likes of Frightened Rabbit and The Twilight Sad, while its heavy piano chords and electronics add a widescreen feel which perfectly offsets the low-key folk tales.
That grandeur – with noise and hiss bubbling away menacingly around the surface – is palpable on 'New Ruin' too, but it's perhaps the quieter moments which are most startling on
All Creatures
…, imbued with a poignant and tranquil demeanour laced with melancholy, and it makes for a bewitching combination. That's certainly the case on 'A Fair Exchange', with its sombre piano and whispered vocal, which makes for a fittingly understated end to a thrillingly beautiful record.
Meursault-CrankResolutions by TSURURADIO