Menace Beach – Lemon Memory (Memphis Industries)
Superb experimental fuzz-pop fare on album number two from Leeds duo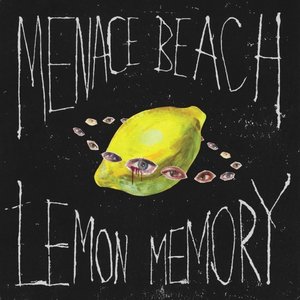 While some albums are written to purge personal demons (messy divorces, record company strife, inter-band conflict), Leeds duo
Menace Beach
have created second LP
Lemon Memory
to alleviate 'a citrus based curse'. No, we're really sure what that involves either, but the results are uniformly impressive and it's got to be a hell of a lot less gut-wrenching than
summoning Max Von Sydow
at any rate.
Making their bones as an indie pop/garage rock outfit,
Lemon Memory
broadens the band's horizons beyond last year's well received debut
Ratworld
. Opening with Give Blood, the intro of which is a try-out of a Kinks-style garage rock riff that catches fire on the third attempt, Maybe We'll Drown second highlights the band's willingness to experiment, wedding a power pop rumble with ethereal vocals that ends up sounding not unpleasantly like Johnathan Richman being swept under by the
Ninth Wave
from Side 2 of
Hounds of Love
. In keeping with the lo-fi aesthetic the warmth of the sixth-generation cassette copy courtesy of Ross Orton ensures things never become too glossy and crucially boosts the vocals in the mix, a huge bonus as Liza Violet and Ryan Needham both have voices that boss the songs in clear melodic style.
The wiry stomp of Sentimental is entertaining straight ahead alt. rock fare as is the most immediate thing here, recent single Suck It Out, and elsewhere the sweetly melodic Darlatoidis is the sound of Wayne Coyne backed by the Breeders. Based around a warped Hammond organ riff that sounds as though it could have been sourced from a slowly disintegrating tape, the title track is led by Needham's swooping vocal melody, while Can't Get a Haircut develops midway through into something akin to Berlin Trilogy era Bowie, all swirling synths and wobbly Robert Fripp guitar lines.
All of the aforementioned adds up to an sterling set, yet its the last three tracks move the LP up a gear as the duo showcase how their sound has progressed. A repeated guitar riff overlaid with Liza Violet's spiralling vocal acrobatics, Owl is brilliant off-beam alt. pop that evokes Cocteau Twins' Liz Fraser while the downbeat Watch Me Boil is vaguely reminiscent of MBV nugget Cupid Come. A wedge of gorgeous, deep-pile dream pop, Hexbreaker II which chronicles the 'curse' being lifted, sees the album head off into the sunset with an extended instrumental coda and whatever blight the band had upon their houses vanquished.