Medicine - To the Happy Few (Captured Tracks)
Is the new album by these reformed early 90s alt-rock icons just what the doctor ordered?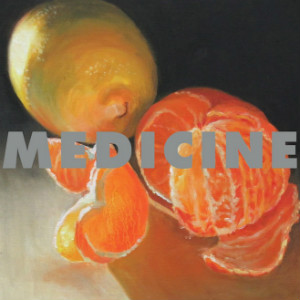 Shoegaze, noise-pop.... whatever you want to call it, it's been having a bit of a moment recently. One of the signature sounds of the late 80s/early 90s, its template of woozy melodies buried under layered waves of distortion and feedback has returned with a shrug (it was always too diffident to return with a bang...).
The scene was oft considered more of a British thing, with
My Bloody Valentine
the undisputed gods, but LA's
Medicine
won plenty of plaudits with three highly rated albums (1992's
Shot Forth Self Living
, 1993's
The Buried Life
and 1995's
Her Highness
). Now, the original trio of singer
Beth Thompson
, singer/guitarist
Brad Laner
and drummer
Jim Goodall
are back together. But is the old magic there?
Full disclosure: this reviewer missed Medicine the first time round, so this is his first dose. And it is soon apparent that, compared to the likes of MBV, the sunny-sounding
To the Happy Few
is a pretty accessible beast. While there are a few avant-garde twists and turns, it has as much in common with the new wave of psych-rock revivalists like
Tame Impala
, as it does with yer old-school shoegazers.
Opener 'Long as the Sun', the album's lead single, sounds disorientating at first, but the listener soon becomes accustomed to its rapid stylistic shifts. This is the band's
modus operandi
, one repeated throughout the rest of the album. The influences come thick and fast: there are hints of early
Chemical Brothers
in psychedelic mode,
The Cocteau Twins
(cooing unintelligible vocals), late-period
Beatles
(luvverly harmonies) and Tame Impala (thrumming basslines and surprisingly funky drumming).
It must have taken a million FX pedals and bleedin' ages in the studio to create this odd, layered mix of the poppy and the out-there - with the harsh wall of noise of early noisepop replaced by gauzy, blissed-out pyschedelia. God knows what they're singing about, but they seem pretty happy. Must be all that Californian sun...
The out-and-out poppy moments like 'Butterfly's Out Tonight', where the singing is upfront and fully intelligible, are the most satisfying. On the likes of this, such as 'Holy Crimes and Burn It', the band creates moments reminiscent of the criminally underrated
Boo Radleys
at their trippy, skyscraping early best.
Elsewhere, things get a mite frustrating as some lovely moments are sabotaged seemingly for the sake of it, a la
Animal Collective
. One wishes that, like contemporaries
Yo La Tengo
, they incorporated more extremes within their sound - more outright pop, more danceability, more what-the-fuck weirdness. As it is, for all the eclecticism of their influences, the similarity of the approaches on some of the - relatively short - songs makes the album feel samey in parts.
That's not to say that For the Happy Few is a hard listen. It has some gorgeous moments, and is beautifully put together, but ultimately it's like an intriguing photograph that never quite comes into focus. This is obviously a deliberate aesthetic choice, but with compelling vocals, interesting lyrics and much song structure deliberately removed from the mix, we are left with charming but half-formed sketches where there should be songs (Indeed, this is why the movement died in the first place, as listeners cried out for hooks, personalities and a bit of old-fashioned charisma...).
This album may well sound ace heard very loud while stoned at a festival, but this reviewer for one is hoping their symphonic psych-rock masterpiece is just around the corner.