Mazes - A Thousand Heys (FatCat)
Good day sunshine! Mazes are here for the Summer.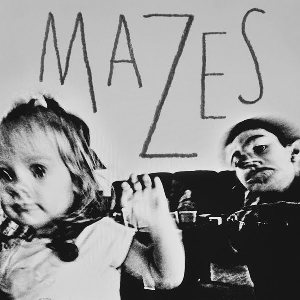 They are here to play your festivals, to crash your party armed with rare 90's US indie cassettes and busted amps. The music is littered with blatant inspiration (read: plagiarism), slacker rock (read: obsequiously lazy), killer riffs (read: hi-fi tape production) to great effect.
The group who formed between Manchester and London, whose lead member Jack set up the instantly hip
Suffering Jukebox
label and who fast became mainstays in the right gigging circles of Manchester have re-(re-?)located to London signing to
Fat Cat
, and in turn have got classy. Before these recordings the group were a beautiful inaudible mess - rolling, slapping, falling, bouncing. This record marks their graduation to 'fuck man, we're a proper band with a record. Fuckingmental' status.
Without listing the bands who have already made this record, which would only belittle a record that never pretends to be original, here's what it does.
From one rollicking riff to the next the sound slips into College rock territories carrying the aesthetic of highly melodic yet crunching guitar riffs. The best example of this can be found on Wait Away where the lick is a straight up nick from Julie Doiron's 'Spill Yer Lungs'. In terms of pillaging, isn't the worst and the break in question is well worth some light fingered philosophy.
What Mazes do so well is turn out a record of exceptionally short sighted reach whilst remaining so accomplished. throughout the feel is effortless pop. That they've just soundtracked your carefree Summer, you're journeys to festivals, your BBQ's, your beach trips. Because, despite the great wide open Americana which much of the record imitates there's a closed, quaintness to the affair. Imagine Brideshead Revisited as a John Hughes comedy.
Track 'Boxing Clever' points to the self-deprecation of the group and of their Mancunain peers. In reality the group have boxed clever, but if all the ephemeral palaver that has surrounded them from the beginning has this cute rocker of an LP in mind then more power to them