Mark Stoermer: Filthy Apes and Lions (St. August Records)
The Killers bassist takes time out from the day job with bonkers prog/psych pop LP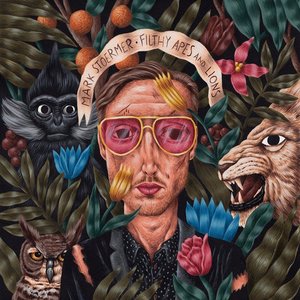 While his name is reasonably likely to ring a bell,
Mark Stoermer
's contributions to one of the biggest (and best) bands of the 21st century, The Killers are instantly familiar. Currently on a touring sabbatical away from the Las Vegas crew, the bassist has cultivated a sideline as a solo artist away from the group, with
Filthy Apes and Lions
his third LP since 2011.
A collection of psychedelically addled prog/chamber pop powered largely by piano and Stoermer's surprisingly decent voice, the album is far removed from the New Wave/alt. rock direction pursued Brandon, Ronnie and Dave. Opener Beautiful Deformities gives a clear indication of where we're heading, almost working as a condensed history of psychedelia 1965-1973, taking in a guitar solo strongly redolent of The Byrds' Eight Miles High, through to
Sgt. Pepper
and Roger Water's basslines for Pink Floyd. As this and Racing In the Rain underline, straight-up song structures are largely dispensed with on the LP, with Stoermer preferring what used to be termed 'suites', song snippets stitched together, a speciality of The Beatles 67-69, i.e.: A Day In the Life, Happiness Is A Warm Gun, the Long Medley from
Abbey Road
.
One of the most straightforward things here (albeit with a truly off the wall Claymation
video
) Dwarfish Trumpet Blues is a Tyrannosaurus Rex cover, the folky, pre-Glam Rock incarnation of Marc Bolan's outfit. Adapting the original guitar arpeggio into a percussive strum and adding a percolating synth undertow, the arrangement enhances the Eastern atmosphere of the original.
Inspired by the mind control villain made famous by German Expressionist director Fritz Lang, The Perennial Legend of Dr. Mabuse sounds like something from
Aladdin Sane
, where Bowie's 'Ziggy goes to America' persona met with Mike Garson's brilliantly rococo piano work, with the present cut also featuring an atonal/tuneful piano track. Mica Rae is also imbued with the spirit of Mr. Jones from Bromley, resembling
Ziggy
-era gems Starman and Soul Love and along with Dwarfish Trumpet Blues is the best thing here.
Taking a full-blown leap into the avant garde, Muju's Revenge is a nine-minute opus that sounds like something you'd encounter in far-flung corner of Glastonbury Festival circa 1971: bizarre descending scales, shuffling drum rhythms, guitar lines that spiral out like off-kilter Dave Gilmour solos and ominous jazz piano undertow. Presumably a swipe at the dominance of social media, the vocoder-led People Take Pictures of Each Other is scored by a Bontempi organ that develops into a jaunty music hall knees-up. Returning to German expressionism, possibly with a hint of Neil Young, Nosferatu Blues ('
I can be a devil or a zombie from a cave
') is the track closest to conventional (if there is such a thing) prog rock/spooked psychedelia.
While those expecting the Glamorous Indie Rock & Roll of his day job will be absolutely baffled, the resolutely bonkers
Filthy Apes and Lions
, while certainly an acquired taste provides clear evidence of Stoermer's talent.