Malcolm Middleton and David Shrigley – Music and Words (Melodic)
Indie legend Malcolm Middleton and artist David Shrigley make something sounding like the dark dreams of Malcolm Tucker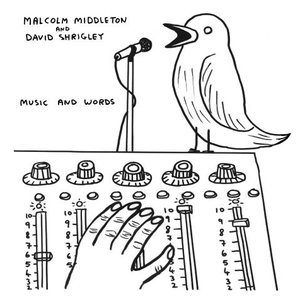 The indie hero that brought us the morose stylings of Arab Strap has returned for his next collaboration. And in this work with artist
David Shrigley
,
Music and Words
,
Malcolm Middleton
has left the lo-fi musical fingerprints of Arab Strap all over the shop. But Shrigley has brought his own touch – which makes
Music and Words
sound like the dark dreams of Malcom Tucker.
"Darkness, pathos, despair; existential things" is how Shrigley describes his and Middleton's shared interests. And there's lots of that sense of humour on the album. However, without the beats of Middleton it wouldn't be able to stretch into a profound territory.
For on
Music and Words
"the meaning is negiotiable" as Middleton points out, because it is not always clear where the album is going, or whether it's being serious. When he received 'Sunday Morning' Middleton himself misinterpreted it as "a scathing attack on the pomp and arrogance of religion, only to be informed that it's just about willies."
If there is a purpose to this album, other than having fun, it serves to point out how music can make simple words sound more profound. For instance, just before the track 'Caveman' the lyrics are revealed without music. It's so ridiculous even the singer laughs. Then, with music added, it's completely different. And even good.
Aside from that and amongst all the swearing, insults, gratuitous cartoonish violence and silliness there is a moment at odds. 'Dear Brain' is a prayer from a man, or woman. 'Brain' is asked to pay more attention to the person who is meant to be spearheading the whole mind-body operation. It's a thought piece which works particularly well.
But where the hell did they get all these samples from? There are accents from all over the place – Glasgow, Edinburgh, America, BBC Radio 4. Well. I'll tell you, my friend. He didn't. He made them by using several voice artists and the musical tapestries of Malcolm Middleton. With excessive swearing, insults and ridiculous situations portrayed throughout, the voice humour is predictable at times, but still funny. And it ends up sounding like the dreams of
The Thick of It
's Malcolm Tucker. Not a bad thing.
Born in lieu of the artwork for Middleton's A Brighter Beat album
Music and Words
could be an experiment of the effect of music on words. Middleton and Shrigley clearly had fun making this. And while it's not the finest Middleton has ever worked on, there are still a few gems in the album. But for Shrigley the whole thing "was just what I wanted, even though I didn't know what I wanted," as well as being "funny, disturbing, then a bit more disturbing."
Malcolm Middleton and David Shrigley Links