Louis Philippe and the Night Mail: Thunderclouds (Tapete)
A-list footy scribe and baroque-pop icon (yes, really) returns with sumptuously beautiful new album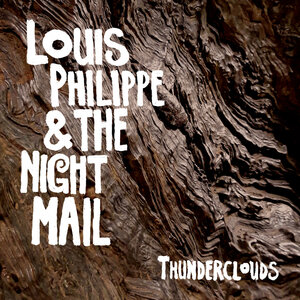 Philippe Auclair, aka baroque-pop auteur
Louis Philippe
, wears several (rather stylish) hats. The key figure behind Cherry Red's late 80s' cult label el Records, he is also a highly respected football journalist and broadcaster, and a passionately Europhile news reporter.
His Twitter feed has the perfect French aesthete's response to 2020: 'In such ugly times, the only true protest is beauty'. So after the best part of a decade concentrating on his day job, he brings us his second album of the year. And it's already garnered praise from giants such as Beach Boys orchestrator Van Dyke Parks, the great Robert Wyatt and fellow journalist / musician Sean O'Hagan of High Llamas fame. Is this justified?
'Thunderclouds' certainly nails its colours to the mast. This is unashamedly romantic music for grown-ups, its sumptuous orchestral arrangements and jazzy flourishes familiar to lovers of Tindersticks, Burt Bacharach, the Divine Comedy and French chanson. Easy on the ear but high in IQ, it clings to life's beautiful illusions, despite all the available evidence. If it is going down, it will do so in style.
The album certainly sounds the part, with light-touch drumming, jazzy guitar and piano providing a subtle, spacious background for the vocals, sweetened by strings and horns. Opener Living on Borrowed Time is an usually high-tempo start, its jazzy spy-film flourishes pushed ahead by insistent double-bass.
Once in a Lifetime of Lies is more typical of the album's pacing, a swooningly regretful reverie that makes betrayal sound beautiful. Rio Grande has a definite High Llamas touch, two minutes of sweeping instrumental before Auclair muses on life's fleeting epiphanies ('the Promised Land is the smile of a stranger never seen before / And lost again…')
Willow is a swinging MOR instrumental, a slice of Las Vegas loveliness. Fall In A Daydream is another wistful kiss-off to a faithless lover whose charming facade no longer convinces. Album title track Thunderclouds prays for shelter as 'thunderclouds under the mountain / move on by, heavy with rain' (love those strings).
Love is the Only Light brings early 70s Van Morrison to mind on the verses, and gets away with singing 'it was' as 'twas' (hey, Shakespeare did it!). Beautiful instrumental Alphaville is somewhat reminiscent of criminally neglected trip-hop romantics Alpha (check out their 1997 debut Come from Heaven, a genuine classic).
By the time we get to No Sound, we are putty in Louis-Philppe's hands. The Man Who Had It All is worth it for the title alone, while The Mighty Owl detours into slightly folkier, (relatively) more minimal territory. The plaintive Do I is even slower, an anthem which would make a dynamite closer to any nightclub set, while When London Burns ends the set on an intriguing note (is it an anti-Brexit song? Hard to say).
Thunderclouds is a bit of a grower, but give it a couple of listens and it will start to charm your pants off. A masterclass in bruised romanticism, it may be too rich a confection for some, but those happy to swoon along will find much to delight them here.
4/5
Louis Philippe and the Night Mail Links