Lord Huron: Long Lost (Republic Records)
US indie folk outfit triumph on beautifully realised fourth LP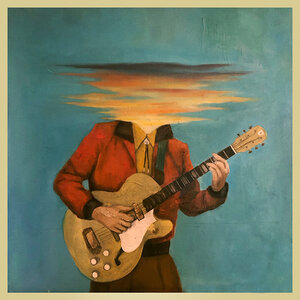 Sometimes a record comes out of nowhere, from a band you've never heard of, and blows your head off. That is the case with
Long Lost
, the fourth album by cult US indie outfit
Lord Huron
. It's the musical equivalent of a David Lynch film (one of the good ones) - complete with doomed protagonists, thwarted love, weird dream sequences, spooky foreboding and opiated dreaminess.
Band supremo, singer and songwriter Ben Schneider, a Michigan native turned Los Angeleno, is a master at creating the kind of high-concept marketing ideas (fictional TV shows, unreal pop acts) that pique the interest of online natives, and they have turned the band into a major cult concern. However, despite its pitch-perfect early 60s sonic and conceptual trimmings,
Long Lost
is no heartless pastiche. This is a deeply affecting record, with poetic, beautifully sung lyrics of country-perfect simplicity, hooky melodies and genius arrangements. Even if the songs weren't all that, you could just dive into the sheer
sound
of this and wallow away contentedly.
The album is intriguingly structured, with instrumental segments and scraps of speech by the host of fictional TV show Alive From Whispering Pines linking a set of note-perfect, largely country-pop gems. Mine Forever has more hooks in one song than many acts manage on an entire album. Its groovy mid-60s touches are slightly atypical, but it introduces the swooning strings, ace chord changes and swoony, reverb-heavy Chris Isaak / Roy Orbison vibes that crop up frequently, to killer effect.
Love Me Like You Used To
is pure heartbreak nirvana, a pure country feel mutating into something poppier but also epic, weird around the edges and absolutely dripping with longing and loss. Our protagonist is filled with regret, not for the last time, suspecting that he's going to lose his girl - and it will be his own stupid fault.
Meet Me In The City
is a rare flash of hope, hoping one night out will make everything alright ('
Put on the dress you wore when we met / We're gonna paint the town…
')
The title track sounds epic - music to drown in - but its successor
Twenty Long Years
is maybe the collection's highlight. Our protagonist mourns his lost dreams, his lost love and the money he has gambled away. Dope-sick, he has almost forgotten who he is and what he is doing:
'I've gotta find a way out of this mess, I'm in trouble and it sure looks bad…'
Beautifully realised, this tale of a lost soul would bring a tear to the flintiest eye.
They just keep on coming.
Drops In The Lake
('
I just want it to be like it was / And I want you to be like you were
') makes sadness sound beautiful once more. Not Dead Yet is a change of pace as rockabilly sneer meets War on Drugs-esque dream-AOR to winning effect. I Lied is another highlight, a gorgeous duet with Allison Ponthier, tears-in-your-beer in excelsis and, as they say, a smash hit in a better world than this one.
At Sea is a kitschily lovely tiki bar escape fantasy while What Does It Mean sees our protagonist trying to come up with a plan, his uncertainty soundtracked by a long and lovely string outro. Is minute-plus quasi-ambient instrumental Time's Blur. It's immersively beautiful but unfocused and its running time seems a tad excessive, possibly the album's only editorial misstep.
But hell, outside nature prefection is rare indeed.
Long Lost
is a major iumph, a perfectly realised, melancholy dreamworld to lose yourself in. It's that rare beast, a concept album that totally works, both as an overarching narrative and a set of songs. When sadness sounds this good, who wants to be happy?
5/5