Lemuria: The Distance Is So Big (Bridge Nine)
US indie-punk trio unleash impressive third LP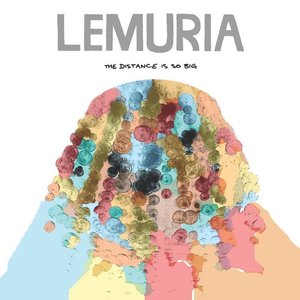 Since their formation waaaay back in 2004 and the release of their debut album
Get Better
,
Lemuria
have always been moderately prominent in the US punk and emo world, playing living rooms and basement shows with hardcore/punk bands all over the place and also somewhat under the radar in indie. If anything, this illustrates their (perhaps unintentional) appeal to fans of both genres.
The musical world the band occupy is thankfully less immersed in PR angles and endorsed world tours; and more about the scene involved in these basement shows, DIY touring, and lo-fi recording (a trademark of long time producer J. Robbins). Perhaps this is why
Bridge Nine Records
(home to hardcore bands Defeater, Crime in Stereo and Cruel Hand) decided to sign Lemuria up.
Two years on from
Pebble
, the album that placed them firmly on the map in Europe and the UK as well as the US, Lemuria have made a much anticipated comeback with 2013's
The Distance Is So Big
. An album that is soaked in the euphoria of summer nights and driving at dusk with the all the windows down, singing at the top of your voice,
The Distance Is So Big
is in some ways a departure from the melancholia that lingered on
Get Better
and
Pebble
. This album details post-break up optimism, and that feeling of freedom – a new life with new possibilities.
With the addition of piano and keyboards fleshing out the fuzzy riffs in lead single 'Brilliant Dancer' and quirky and sparse track 'Scienceless', there is a playful tone to much of the LP that was perhaps just bubbling under the surface on previous albums, but weighed down by shades of sorrow. Here, it's as though the mist has lifted and the view ahead is beautifully sunny and clear.
The carefully structured vocals on 'Paint The Youth' embrace and also build upon the twee harmonies that previously engulfed many of Lemuria's songs. Lead singer Sheena Ozella sings with soul, experimenting with different vocal tones and ornamentations, whilst co-singer/writer Alex Kerns weaves around her beautifully, resolving into a memorable call and answer of a poignant lyric; 'It's never too late, it's never too late, it's never too late to be what you might have been.'
As ever, Lemuria demonstrate that they are accomplished and stylistic songwriters, with pretty guitar hooks constructed imaginatively around off-beat time signatures, Kerns is an inventive drummer, whose style is an integral part of Lemuria's trademark sound, as integral as the familiar inter-play between the boy/girl vocals.
The deep strings on 'Oahu, Hawaii' create a full thick creamy texture, complimenting the guitars perfectly, while 'Chihuly' picks up the pace with a big chorus and pretty sentiment. 'Ruby' abruptly comes to an end, rounding the album off hastily, leaving you wishing there was more.
Although there is a clear and well-known "Lemuria sound" that links all of their albums, a sound that the band have honed and employed to form
The Distance Is So Big
; the songs are never formulaic, always subtly surprising and catchy as ever. There is a fragile beauty at the core of the album, drenched in fuzz, riff hooks, jazz-punk drums and REAL sounding vocals. Lemuria are a consistently good band who will continue to write consistently good albums, and hopefully they will do so for a long time to come.