Larry Gus: I Need New Eyes (DFA Records)
He sings! He produces! Is there anything Larry Gus can't do? On this evidence, no...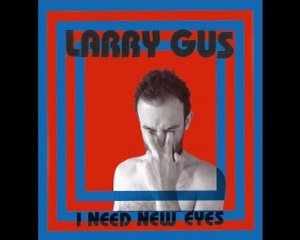 Greek artist / producer
Larry Gus
, aka Pananagiotis Melidis, is a super-talented bundle of contradictions. The prolific remixer's sixth and latest album is reportedly inspired by a quote by Proust, and influenced by new fatherhood and the deep and abiding jealousy he feels towards his more successful contemporaries. Not that you'd know from listening to
I Need New Eyes
. The allegedly neurotic Gus has produced an utterly assured, luvverly sounding record that melds earworm melodies and intriguing sentiments to killer global grooves and some of the funkiest percussion these ears have heard for years. And the chap sings (pretty well) to boot...
The more uptempo moments have a clattering, polyrhythmic 'rush hour at the bazaar' vibe that will appeal to fans of M.I.A. Elsewhere, the mellower, more contemplative moments are like some kind of future Balaeric pop - awesome barbecue music for the summer we never had. Then, just because he can, Larry drops the beats for several minutes at a time and gives us the soundtrack to a great lost 60s detective drama (the supercool duet 'Belong in Love'). And while it's classy stuff, it's extremely accessible and melodically rich - each track has more hooks than a Peter Pan convention.
Highlights? It's pretty much all highlights. Opener 'Black Veil Of Fail' somehow meshes introspective psych-pop with ecstatic Arabic grooves. 'NP-Complete', inspired by Brazil's psychedelic protest movement Tropicalia, progs out like Yeasayer; and 'Taking The Personal Away' starts with kick-ass percussion then hits high gear with some awesome spiralling Terry Riley keys (ask yer dad) and ecstatic sax.
The first half of 'All Graphs Explored', with its proggy 80s feel, risks being the album's only misstep, before a host of surprising production touches - Mike Oldfield-esque chimes, handclaps and massed vocals - make resistance useless. 'The Sun Describes' hits that sweet spot where ambient mellowness meets the dancefloor, and the layered groove of 'Nazgonya (Paper Spike)' ends things in style.
This genuinely uncategorisable album covers a lot of ground, and its 360 degree perspective is ultimately an uplifting one because of the loveliness of much of the music. Sample-heavy psych-pop? Global grooves? Balaeric beats? Fuck knows. But it's a beauty...