Kitty, Daisy & Lewis - Smoking In Heaven (Sunday Best)
Evolution and maturation are beautiful things in any band and on their latest album Smoking in Heaven, Kitty, Daisy & Lewis have grown considerably and found the tools needed to mine much deeper into their established sound.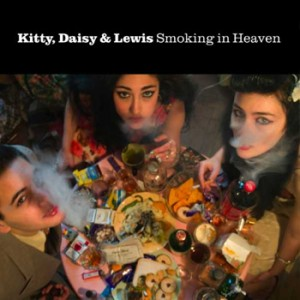 Of course, popping the record into an eagerly waiting CD tray,
Bearded
were expecting another round of quiff-inspired rock'n'roll and, as such, jaws hit the ground at a rate of knots as the first track played. Perfectly positioned in first place, 'Tomorrow' is an appropriate example of how far the Kent trio have come over the last couple of years. After kicking off with what is definitely the intro music to Flight of the Conchords, a sudden change of mood throws a horn melody over the top of Lewis' offbeat guitar chords and we're in ska-land!
For the rest of the album the guys tend to swing back to their original style but this isn't just kids playing covers anymore. The whole album is made up of original material and it really gives them a chance to show off their songwriting talents. Still showing variety, 'Messing With My Life' is an upbeat Motown inspired pop song whilst 'Don't Make a Fool Out of Me' is a slow groove that, in a style reminiscent of John Lee Hooker and other blues greats, employs but a single chord to base their entire jam around. Two instrumentals give the album their technical interest with the solo-heavy 'Paan Man Boogie' and the seven minute monster that is 'What Quid?' which gives Lewis plenty of space to experiment with a multitude of guitar tones and effects.
Still recording all their material themselves on ancient analogue devices, Lewis' production skills have only improved. Much clearer in general, the album sounds like it was recorded now and not when the equipment was made which is a definite step forward from their previous album.
The only criticism that can be made about this record is perhaps the songwriting. Whilst mostly original and interesting, Kitty, Daisy & Lewis do at times wear their influences too clearly on their sleeves. Whilst 'What Quid?' is an epic jam, the central riff is so clearly taken from 'Jeepster' by T. Rex. Add to this the fact that the opening riff on the opening track is a Flight of the Conchords rip off and 'Don't Make a Fool out of Me' sounds considerably like Bob Dylan's 'Serve Somebody', and you can piece together their record collection quickly and easily.
Overall though this is a massive step forward and, if they keep making this sort of progress, Kitty, Daisy & Lewis will be at the forefront of ultra-retro rock'n'roll for many years.