Kitsuné America 2 (Kitsuné)
Ben Wood wraps his ears around the latest offering from French electro fashionista label Kitsuné.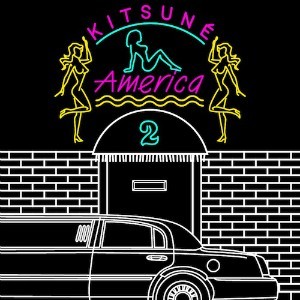 Famed for its compilations, tres chic Paris-based music / art / fashion label Kitsune like to blur the lines between art and commerce, songs and electronica, modernism and retromania. And while the deliriously postmodern Kitsune America 2 may showcase American acts, its sensibility remains resolutely Gallic as it flits between languorous, sexily drugged-out takes on 80s electro-pop and cool new updates of classic house music.
Packed with yummy synths and earworm melodies, the album starts off by sexily remodelling late 70s / early 80s AOR, like a post-coital
Moon Safari
(yes, that good). It then proceeds to reference all manner of 80s tropes, from power ballads and smooth soul to early house music, with a remarkably high hit-rate - rescuing almost all these notions from the clutches of naffness. In recent years, many records have had similar notions but few have succeeded to such seductive effect.
Ghost Loft
's opener 'So High' is a cooing love duet that's soft, melting and drips MDMA from its very pores, while
TiDUS
' instrumental 'Say It' is a gorgeous marshmallow wallow. We then seem to move forward to the mid-80s: the admittedly catchy 'Wings' by Haerts is a windblown synth ballad that would fit nicely on the Mad Max II soundtrack next to 'We Don't Need Another Hero'.
There are some ridiculously addictive moments here:
Gigamesh
's spangled 'GOTF' and the underwater cameo of
Chrome Sparks
' 'Marijuana' are both sensually wondrous, slo-mo grooves. The spirit of acid house looms large on the album's second half:
Toro Y Moi
's 'Say That' has a bumping groove and euphoric synths to die for, while
Jim-E-Stack
's 'Come Between' brings back speeded-up 'chipmunk' vocal samples; and
Malandro
's 'Casa Rosa' is a percussive chunk of trancey Latin techno.
It's not all gold:
Alison Valentine
's 'Circles and Triangles' is a weedy-sounding attempt at 80s rare groove, while
Papa
's 'Put Me To Work' is the only stinker here, its pompous windswept 'emotive' vocals moving it into
Killers
remix territory. Ouch.
However, this is an album packed with cracking ideas, and it ends on a high.
Heartsrevolution
's mixes sexed-up electroclash attitude with groovy digital reggae; while loved-up closing ballad 'Move Me', by
Jhameel x DWNTWN x Giraffage
, is driftingly lovely.
All too soon, it's over. Decadent, gorgeous and packed with killer tunes, Kitsune America 2 sounds like the best party you've never been invited to.