King Creosote & Jon Hopkins - Diamond Mine (Domino)
King Creosote & Jon Hopkins' collaborative effort becomes an instant classic.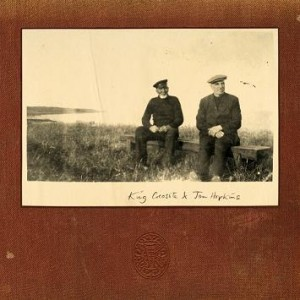 It's seven years since Kenny Anderson, aka Fence Records co-founder
King Creosote
, decided to delve back into his scuffed notebook in order to revisit some old songs with electronica musician
Jon Hopkins
. An incredibly prolific songwriter, Anderson and Hopkins select seven tracks here which, though they are all effectively micro-suites in their own right, fit together perfectly to create a beautifully melancholy mood.
One of the wonders of Anderson's songwriting is that his compositions are supple enough to work in widely contrasting arrangements – look no further than 'Circle My Demise' from
Rocket DIY
, a harmonium-led lament which also appeared in another guise as blissful electronica, pairing him with
Magnetophone
. And his melding of traditional folk and electronic cues – let's face it, the folktronica tag has never done this justice – has been a mark of his finest work, as is the case on
Diamond Mine
.
Matching Anderson's poignant lyricism with Hopkins' crystalline arrangements, these delicate compositions take in gurgling electronics alongside more traditional instrumentation, orbiting Anderson's rich Scottish burr. The centrepiece of this collaboration is 'Bats In the Attic', a vignette which swoons over heavy piano chords and pattering drums. With his immediate and emotive lyrics, Anderson's songwriting remains deeply rooted in the personal and the minutiae of life. For this reason, the album sounds – as is often the case with King Creosote records – like the musical embodiment of a Mike Leigh film.
The skittering electronic hymn 'Bubble' is warm yet bruised; a tender tale which makes a virtue of space before adding mournful banjo to complete a subtle but affecting combination. Yet it's the closing track 'Your Young Voice' which opens up even more, an achingly sweet expression of Anderson's feelings about fatherhood built around a vocal refrain and simple finger-picked guitar melody.
An elegant and cohesive whole,
Diamond Mine
is – numerically at least – just another release in the vast King Creosote catalogue, but what's most startling is how Anderson maintains such high quality control. These interpretations fit together to make a moving and, above all, outstanding album. Essential listening.