Kill It Kid - Feat Fall Heavy (One Little Indian)
Kill It Kid's sophmore effort shows their growth and maturity as a band.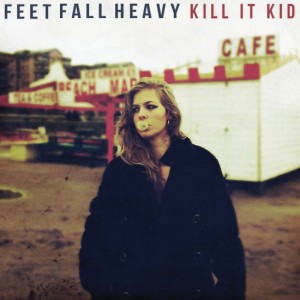 Kill It Kid
are a youthful collective with a sound so mature and refined beyond their years it's more than enough to turn one a rather dark shade of green.
Feet Fall Heavy
follows on in the rather the same vein from the self-titled debut released on One Little Indian to critical acclaim in 2009, albeit with a stronger sense of direction. With this sophomore effort Kill It Kid no longer sound a gathering of talented music students sowing together their love for hard southern rock, blues, and country, but a band with an identity and sense of purpose. The deeply southern accent that can be heard in the introductive sample to 'You're In My Blood' followed by wailing guitar static and a howl by Chris Turpin (one half of a vocal duo completed by Stephanie Ward) pretty much sets the stall out for this record, it's going to be a low down, hard and dirty ride.
The dual vocals of Chris and Stephanie provide this record with a wonderful bitter sweetness throughout and they intertwine in less than orthodox patters of call and response. The use of keys features much more heavily on this record than the outfit's previous releases and these songs benefit greatly. Simple and sharp chord stabs intensify the emotion of tracks such as 'Heart Rested With You' and 'Let My Feet Fall Heavy' whilst Stephanie's more subtle runs along the ivories seem to almost hide behind the guitars, modestly stringing together the melodies of 'Pray On Me' and 'Dark Hearted Songbird'.
Speaking of rock's instrumental standard bearer, the guitar playing of this record is not to be underestimated, it is a six stringed behemoth. At times leaning heavily on their Americana influences with a healthy dose of slide, some banjo, furiously plucked chords and all whilst resisting the urge to descend into a cliché solo. Kill It Kid can swerve from Lynyrd Skynyrd and Bo Diddley, accelerate to Rage Against The Machine then brake suddenly into Patti Smith like melancholy all in the space of five minutes. The amount of publicity the group has received seems to have receded despite being nominated for XFM's New Music Award 2010 and playing SXSW in the same year. In a time when guitar music struggles for airplay and an indie album seems to stand no chance against a club banger, if there's no space left out there for the likes of Kill It Kid then it is a very sad day for music indeed. Despite the tragedy in Enfield, the release of
Feet Fall Heavy
has not been pushed back and this talented four piece deserve a chance to live up to their potential as they most certainly have on this record.