Kestrels – Kestrels (Sonic Unyon)
Canadian shoegaze/power-pop trio come of age on third LP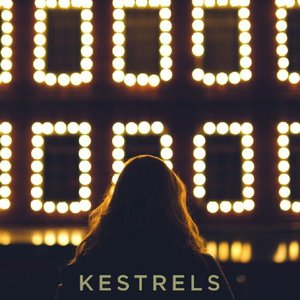 An interesting one, eponymous albums. When they aren't the band's debut LP, a self-titled set can usually mean one or several of the following: a change in direction, (
Blur
), a definitive statement (
Metallica
aka
The Black Album
), or maybe that the band have reached what they aiming for, (
Fleetwood Mac
, the album that informed the remainder of their career). Of these three the third LP by Canadian guitar slingers
Kestrels
' seems to be the latter.
Based in the far-flung environs of Halifax, Nova Scotia on the most Eastern tip of Canada, with Crystal Castles/METZ producer Alex Bonenfant in the swivel chair on the other side of the glass and Brad Wood responsible for mixing Smashing Pumpkins also on board
Kestrels
tumbles from speakers in impressive fashion.
While the opening guitar swirl of superb lead single No Alternative signposts that the group have the requisite stomp boxes to be shoegazers, the band's description of themselves as power pop makes sense as the album progresses, as like two other trios they possess the driving melodicism of early Ash and the rip-roaring guitar textures of Dinosaur Jr. The bracing Descent Of Their Last End propelled forwards by machine-gun drumbeats and the energetic sprint of Waiting which hits all the necessary targets in two minutes flat showcase Kestrels' songwriting smarts.
The fuzz pop blast of the suitably titled Ace, bent out of shape by seasick guitar/synth effects before lurching into a blazing solo is similarly excellent, while ultra-melodic gem Suspect thuds along with the guitar clamour mixed low until bursting into the choruses. Members of kindred spirits Texas psychonauts Ringo Deathstarr appear on two tracks, including the boy-girl vocal led standout Are You Alone? elsewhere Lying Down, which consists of little more than a rhythm section pulse and low-key guitar ripple for its verses demonstrates the band's ability to create full-blown tracks from sparse elements.
Not quite everything here is as high-ranking, Wide Eyes is energetic but slightly unmemorable, while Neko is more of a soundscape than a full-on tune. The downbeat delay pedal figure/fuzzed out chorus of Temples bids farewell to the LP with the feeling that now Kestrels have hit upon the songcraft/guitar texture hybrid they've been striving for, their fourth album could be a revelation.