Kestrels: Dream or Don't Dream (Noyes Records)
Canadian power pop group return with blazing new set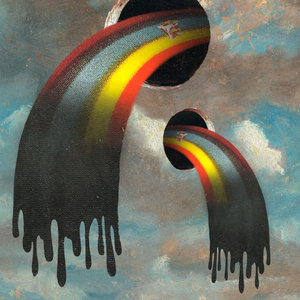 Four years after their
eponymous third LP
was released to positive notices, Canadian alt. rock outfit
Kestrels
largely pick up where they left off.
Now effectively the sole property of band leader Chad Peck following the dissolution of their original line up,
Dream Or Don't Dream
will delight fans of 1980s-90s alt rock. A distillation of Dinosaur Jr, MBV and Husker Du's heavy guitar pop for the present age, Kestrels' self described 'power pop' also includes a fair proportion of FX pedal dreaminess.
Self-produced, the disc boasts the twin accolades of being mixed by John Agnello (Sonic Youth, Kurt Vile, Alvvays) and mastered by Greg Calbi (Bowie, Lennon, Dylan, War on Drugs), the layered guitars given space to breathe. A superb axe player in thrall to Neil Young and J Mascis the nearest the US alternative sector has to a bona fide guitar hero, Peck ropes in the latter to contribute blazing solos to excellent rocker
Grey and Blue
. Walk-on players Norma McDonald's harmony vocals add melodic ballast, while Michael Catano's crisp beats steer proceedings in forthright fashion.
The tempo shifting Dalloway pays homage to Virginia Woolf's 1925 novel
Mrs. Dalloway
while
Vanishing Point
tips its hat to the David Markson story (not the road movie beloved by Guns N' Roses and Primal Scream). Album highlight, the surging It's A Secret constructed around intriguing chord changes diverts into a gorgeous shoegazing interlude, while minor chord gem Don't Dream evokes underrated 1990s Seattle power pop doyens the Posies.
Extended six-minute blow-out Say Less placed last gives Peck's inner guitar hero room to run, closing a solid return to action for the outfit.
7/10