Kenny Graham & His Satellites - Moondog And Suncat Suites (Trunk)
An homage to Moondog, featuring Kenny Graham and some of the biggest British names in fifties jazz music.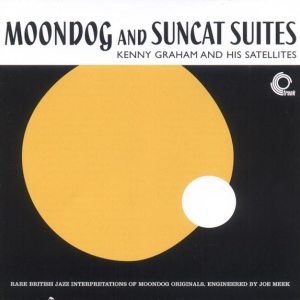 1956, a year amongst a decade of ever changing sounds and appearances. One man, the world famous by this point, Moondog, inadvertently steered Jazz in altogether new directions with his fantastical off-the-cuff arrangements at his legendary street corner concerts. It was within this year that renowned British Jazz musician Kenny Graham came across a rare recording of one of Moondog's impromptu concerts, and was so inspired he created this : A carefully made homage to the man himself, getting together the biggest British names in jazz at the time, all engineered by none other than Joe Meek.
Beautiful as it is haunting, Kenny Graham & His Satellites re-create with admirable detail the instruments, often percussive, which Moondog had crafted by hand. Unusual flutes and whistles he would draw upon from time to time, are referred to with a subtle use of bass clarinet, vibraphone and many others, as well as the voice of a Ceylonese singer Yolanda acting as an instrument. The opening half of the album sounds very much like traditional Chinese songs, quite minimal, with light sparse use of each instrument coming in to play. The use of flute in '2 West 46th Street' is the perfect example of this. The combination of simple, repeated melodies with percussion from an unusual mix of instruments makes for a fantastical reinterpretation of the undoubtedly gifted musician, Moondog.