Justin Townes Earle - Nothing's Gonna Change The Way You Feel About Me Now (Bloodshot)
A relative newcomer to the storied line of whiskey-sodden frontmen who sound like they'd be more at home at the bar than on any sort of recorded music, Justin Townes Earle is one of the more hotly tipped talents to emerge from one of the true homes of Americana: Nashville, Tennessee.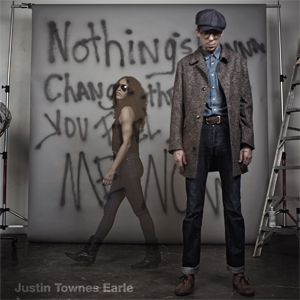 Nothing's Gonna Change the Way You Feel About Me Now
is Justin's fourth album, and the first since a rather troublesome run-in with law enforcement officials a few years back. Justin doesn't just have a voice like the alcoholic troubadours of old, he has the problems to match – a rather intense liking for hard drugs kept him out of the spotlight for a while, but since 2007's
Yuma
, it's all been going pretty well for Mr. Earle.
The new record starts pretty well too – '
Am I That Lonely Tonight?
' is a stormer of an opening track, and sets the tone perfectly. The album at times feels like it's a bit more of a random assortment of songs than any sort of defined album, but given that the full thing was recorded live over four short days, it's easy to see why.
It might not be a concept album, but it does have a theme – this is Earle coming to terms with, well, everything he's done. '
Won't Be The Last Time
' is a lament over drunken misgivings, '
Martha
' sees him open his heart about a failed relationship, but it's on the closer '
Movin' On
' that we really see the true potential of
Justin Townes Earle
. He looks back over the past thirty years of his life – "Thirty years of running" – and questions whether he's ever really moved on. It's simple stuff, but it works so brilliantly.
And therein lies the beauty of Townes Earle. It isn't likely that he'll reach the stadium selling out heights of
Springsteen
, or the almost reverential status of
Tom Waits
, but as far as modern Americana goes,
Justin Townes Earle
is as real as it gets.
Nothing's Gonna Change the Way You Feel About Me Now
is a departure from his previous works, but he pulls it off – if the next
Justin Townes Earle
record can be as introspective, yet uplifting, as this one, then he'd really be on to something.
Justin Townes Earle Links