Juan Wauters: Wandering Rebel (Captured Tracks)
Emigre singer-songwriter strikes gold with witty and playful acoustic-based collection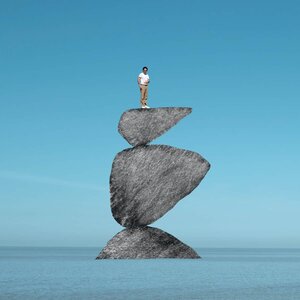 On this laidback, charming and utterly delightful record,
Juan Wauters
manages to do several contradictory things at the same time. Singing about his life in both English and Spanish, Wauters is completely sincere yet playful. The former garage-rock dude sings tunes you can imagine hitting the charts (a version of Ravel's Bolero with rap interlude!!) while maintaining his indie cred. And he often completely ignores the traditional structure of a pop lyric, without obscuring his message in the slightest.
Opener Eloping sees Wauters set out his stall, both musically and lyrically. He sings lines that sound like speech, breaking the fourth wall on the way ("
We are recording a song that will most likely be part of an album
") while the gentle, limpid, piano-led melody is like a warm bath for the ears.
Wauters has Uruguayan roots, though as he explains on the title track, he has followed his dream to LA via New York. He honours both sides of his life, with several tunes sung in Spanish. These ones tend to be duets with female singers whose clear, delicate tones will chime with lovers of bossa nova. The likes of
Nube Negra
are beautiful, sleepy shrugs.
Juan loves a collaboration, and they tend to involve people with really cool names.
Frankie Cosmos
(!) chips in on
Modus Operandi
as the duo wander around a deserted (Covid-hit?) New York, to surging strings. Super Willy K provides a super-chilled rap on Juan's ballsy version of Bolero, a summer number one right now in an alternative universe. It really shouldn't work but it does...complete with rocksteady organ and carnival airhorn!
Millionaire
ponders moving to LA to a winning low-slung groove, while on Let Loose our hero admits: "
It took a long long time for me to sing to you so freely
". Well, we should all be happy he is doing so now. Juan - a good buddy and collaborator with
Mac de Marco
- 'fesses up to being a homebody, and wanting to make money - and his lack of concern about being cool obviously makes him even cooler.
Sonically, this is a pretty smooth record. But so was Burt Bacharach,
Moon Safari
, The Carpenters...Ultimately, this is a beautiful album with a big brain and a big heart... a massage for the ears. And at only 30 minutes for its 12 tracks, it'll leave you wanting more...
4/5