John & Jehn – Time For the Devil (Naïve)
Certainly not lacking in ideas but all too often it fails to match the heights reached by the acts John & Jehn have drawn inspiration from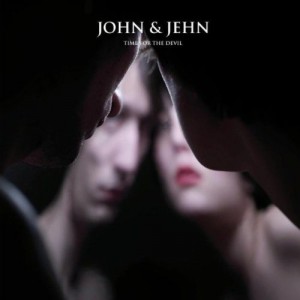 Now with a line-up which has been fleshed out to a quartet, French outfit John & Jehn return with a new album which wears its post-punk influences very clearly on its sleeve.
Time For the Devil
is a conundrum of elastic bass riffs, taut guitar, skittering rhythms, keys and occasionally a burst of strings, with the titular duo taking turns on vocal duties – John with his smoky baritone and Jehn's powerful tones.
At their best when dealing in dramatic pop, John & Jehn shine on the likes of 'Down Our Streets', which packs a fairly straightforward pop sensibility and teams it with the kind of vibrant melody which you could imagine making an assault on the charts if only it could creep onto some radio playlists.
They're less successful when they aim for something meatier and more serious – the rumbling title track doesn't quite hit the target, and neither does 'And We Run', a new wave-ish pop song which suffers from bombast and doesn't live up to its odd, thrilling intro. In contrast, the seemingly throwaway pop of 'Love Is Not Enough', with its subtle drones and icy synths bubbling underneath parping organ, seems better suited to their strengths and makes for a more entertaining listen.
Ironically, some of the album's better moments feel tacked on at the end – the reverb-laden shimmer of 'O'Dee', which aims for girl-group sassiness and harmonies, and is fairly successful in doing it too; plus the two halves of 'Outro'. The first section is the most satisfying, building a wall of noodly synths which sound like a bizarre combination of church organ splendour and Radiophonic Workshop experimentation, culminating in the most intriguing and arresting passage of the entire album.
It's one of the high points of a record which certainly isn't lacking in ideas, but isn't quite so full of originality, and all too often fails to match the heights reached by the acts John & Jehn have drawn inspiration from. It isn't without redeeming features – the wonky, noir-ish pop of 'Vampire' is a real highlight and genuinely exciting pop song – but these moments are too fleeting to make this a must-listen.