John Grant: Boy From Michigan (Bella Union)
Ace lyricist and increasingly fearless sonic voyager unveils sprawling, epic autobiographical album. Dive in, there's a lot going on here...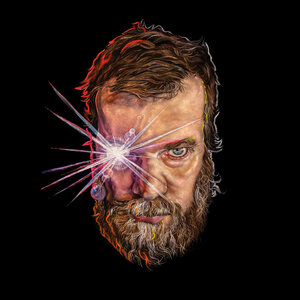 Growing up smart, alienated and gay in the American mid-West must have been no picnic. But though the forces of conservatism - and his own wobbly psyche - did their best to break him,
John Grant
managed to steal some moments of beauty and consolation. And look at him now.
As has been his habit post-
Queen Of Denmark
,
Boy From Michigan
uses an idiosyncratic mixture of baroque balladry and spacey, often quirky 80s-inspired electro-pop. Stretching out to often epic lengths, the songs on his most musically ambitious album to date largely recall, in an almost Proustian way, some of the most formative events of our protagonist's younger life.
While this all sounds pretty heavy going, it can't be stated enough that Grant is extremely funny when he wants to be. In comic mode he's campy, playful, downright filthy on occasion - this is a man whose work engages head, heart and loins. And he's no slouch in the social comment stakes: the album is worth buying just for The Only Baby, the album's longest track. Dripping with scorn, it's a near ten-minute evisceration of Joe Biden's White House predecessor, portraying the orange man-baby as the inevitable result of the dominant culture's 400-odd years of bigoted, greedy, philistine, puritan gittery. Awesome stuff. Alongside Marz, Glacier, JC Hates Faggots et al, it's yet more evidence that Grant is pretty much peerless as a writer of contemporary anthems.
The opening title track sets out the album's stall, both sonically and lyrically. Producer Cate le Bon (an inspired choice) oversees a snaking bassline and phat, cosmic post-80s groove as Grant sets the scene and recounts his friend warning him of the big bad world outside: '
the American dream is not for soft-hearted fools
'. Indeed! This kicks off his album-opening 'Michigan Trilogy', which also examines childhood crushes (County Fair) and nightmares (The Rusty Bull) during his pre-adolescence, before the scene moves to his troubled late teens in Denver with The Cruise Room.
Grant alternates between his classic baritone croon and a conversational, semi-spoken tone that gives the words a deserved prominence. Mike And Julie portrays the singer struggling with his sexuality, shying away from a friend's advances and hating himself for it. It contrasts dramatically with the Devo-esque Rhetorical Figure, a convulsively funky new wave groove seemingly sung by the modern-day Grant, who is turned on to the point of hysteria by a man who knows his way around a dictionary (hey you at the back, behave yourself!).
Your Portfolio is the weirdest cut of all. Positively demented, it satirises the culture's worship of money by treating it as the ultimate turn-on ('
Your portfolio is dripping all over the floor'
). The American economy is like a massive cock - of course! The robotic, slowed-down vocal is like a porno version of Hal from
2001: A Space Odyssey
. Grant is certainly keeping us on our toes...
This is a long, baggy, kaleidoscopic album. In this critic's view, only a handful of all-time classics (
Sign O' The Times
,
Exile On Main Street
,
Blonde On Blonde
, f'rinstance) have ever justified such a running time.
Boy From Michigan
could easily lose a track or two (minor list song Best In Me mebbe) and trim some of the more meandering electronic sections. But, hell, ambition is a fine thing - and the vast majority of this pays off.
It's the work of a man who has done a lot of thinking about his life, and who is happy to express all facets of his complicated, conflicted, huge-brained, libidinous personality. It's moving, ambitious, funny, weird, soulful, a tad self-indulgent...and why not? He's come a long way, baby…
4/5