Joanna Gruesome – Weird Sister (Fortuna Pop)
Short, sharp and stunning debut LP from Cardiff noisepop qunitet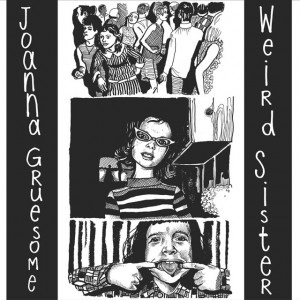 With the bands roots in the DIY music scene in their home of Cardiff, the sound of
Joanna Gruesome
bursts with a patchwork quilt of noises from various parts of underground music scenes from the last twenty years.
Produced by MJ from Leeds psych rockers Hookworms and clocking in at under 30 minutes
Weird Sister
is a fuzzy noise-pop gem, exploding with dissonant yet melodic guitars and teenage angst fuelled lyrics.
'Sugarcrush' encapsulates everything great about the album and the band themselves. Furious, angular guitars that seamlessly flow into swooning boy/girl harmonies that would make Pains of Being Pure at Heart blush (the album is being released in the U.S by Slumberland Records after all) the song's lyrics an ode to a carefree, wasted summer.
For an album ruled by fast-paced fuzzy pop-punk the slower tracks such as the Veronica Falls indie-pop of 'Wussy Void' and the glorious wistful noise of 'Candy' break the album up and stop it becoming a forgettable drive-by of two minute pop songs.
The latter shows off vocalist Alanna and guitarist Owen's knack for effortlessly cool harmonies, at times yearning and full of lovelorn romanticism.
'Lemonade Girls' crushing pace and relentless drums nod to 90's punk label Lookout! Records' seamless incorporation of seminal American twee groups like Cub and Go Sailor and more nihilistic bombast of Blatz and Bratmobile that graced their roster.
The sugar-sweet vocals clashing with the barely-held-together cacophony of guitars and drums are thrilling throughout and leave the listener with a newfound need to see the live shows that will hopefully back up this stunning mess.