Jack O' The Clock: Leaving California (Cuneiform Records)
Jack O' The Clock can play their asses off. But should we care? Erm, occasionally...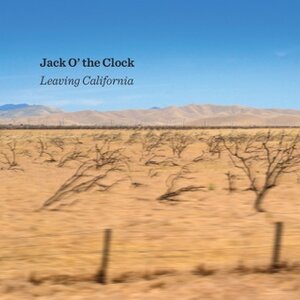 This writer has always been a bit suspicious of prog in its purest form. All that 70s lot (King Crimson, Yes etc) seem too clever for their own good, never meeting a tune they can't bugger up with their clever-cleverness. Punk has happened, we can't pretend it hasn't; and I have seen
Spinal Tap
about a thousand times ('We could play 'Stonehenge…')
However, an honest survey of my record collection turns up Pink Floyd, Gong, The Orb, Hawkwind, the Flaming Lips, Mercury Rev, Funkadelic… There's some serious high-concept spliffiness going on there - but also humour (OK, not you, Roger Waters), fully realised ideas and tunes. I guess maybe I'm a prog agnostic (prognostic?). The terribly named
Jack O' The Clock
formed in music school and were mentored by Fred Frith of 70s proggers Henry Cow. Are these nerdy-looking American big-brains too prog, or just prog enough?
Leaving California starts off with promisingly and is best when the band is kicking out the jams. Opener Jubilation rocks out appealingly, its warm, live-sounding sonics encompassing creamy harmonies, crunchy riffola and, yes, fancy chord changes, sounding great on headphones. At an appealingly concise and energetic three minutes, this is like CSN in jazzy, high-energy mode, after a few minutes in David Crosby's refreshment room.
Several albums ago, Damon Waitkus (songwriter, singer and bandleader) started the band as a folky affair before the (sometimes OTT) eclecticism kicked in. The album suffers when the energy level drops and it slides towards either of these extremes. Break-up song You Let Me Down's violin-and-harmony rush is musically and lyrically accessible. But it's not long before matters take a turn for the lyrically and musically obtuse.
At eight minutes plus, The Butcher combines more-is-less instrumental passages with high-concept lyrics ( Veggie polemic? Relationship metaphor? Who knows). High-pitched vocals summon up the dreaded Jon Anderson of Yes fame unfortunately, the rather mannered singing is a problem throughout). And, as with curry pizza and cage fighting, just 'cos you can mash up disparate genres (here, we're talking jazz, funk, rock, fusion and God knows what else), it doesn't mean you should!
A Quarter- Page Ad is a pleasing amuse bouche, melding a folk / classical string intro, spooky and dramatic, with lyrics taken from a slightly disturbing wanted ad ('
Must appear to be resigned to the heavy hand of fate…'
Yes! Where can we meet?) Meanwhile, title track Leaving California combines mellow folk-rock with funky upfront drumming and (yet more) violin. But despite the odd good line ('
All this craving / What is it for?
'), it is underwhelming and overlong. A pattern has
been established: the shorter the song, the better.
By the time we get to the semi-acoustic, drifty Fascination - eight minutes of not very much … the album seems to be meandering to a halt. Sure enough, closing track Narrow Gate doesn't begin to justify its near twelve minutes running time. OK, it has some nice massed vocals, but just think of what Bohemian Rhapsody did in half that time - or the Byrds' frazzled masterpiece Eight Miles High in a quarter.
Overall, this is an increasingly dull, oddly sober-sounding disappointment. An album with this many ideas should at least be fun from time to time. But this is over-earnest, with nary a chuckle to be found...and if they don't sound like they're having fun, how can we?
This lot can obviously play, but a lot of these ideas seem to cancel each other out and after many listens, not much of it sticks in the brain. Folky, singer-songwriter stuff should be lovely, spooky or have the ring of truth.. if not all three. And ambitious, multi-genre epics should generate the 'Wow' factor. This rarely happens.
Less over-thinking, more soul please. Right, I'm off to listen to Tranquility Bass's lost classic
Let The Freak Flag Fly
. Now that's what a truly inspired melding of styles should sound like…
2/5