J.C. Satàn - Sick Of Love (Slovenly)
J.C. Satàn lets loose a psych-punk gem.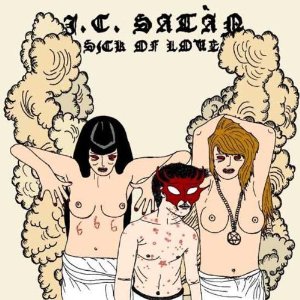 The scorched-earth riffing on
Sick of Love
suggests that J.C. Satàn like their guitars dirty and serrated, while the sledgehammer rhythms and unhinged vocals also fit into what is a fabulously deranged record. The five-piece, which includes members from France and Italy, barely release the throttle on this full-blooded release.
An oddball brand of psych-punk, the quintet pulls together an intoxicating blend of garage punk, blues, psychedelia and even a hint of rockabilly, all soaked in treble and played at amp-shredding volume. They've already garnered comparisons with Thee Oh Sees, plus their distortion-drenched punk-pop seems reminiscent of Times New Viking on the skull-crushing pop rush of 'Superhero', its deft melody beautifully countering the thunderous riff at its heart.
The twisted garage of 'Adventure Boat' can lay genuine claim to being one of the most exuberant and grin-inducingly brilliant pop songs of the past twelve months, all punishing rhythms and an earworm riff which seems as ludicrously simple as it is inspired. Elsewhere, 'Can You' recalls Clinic at their stomping finest, and 'You Are Good, I'm Not Bad' rumbles along like the Fall, with wiry guitars, lurching bass and crashing drums.
With the duelling male and female vocals being a key ingredient, there's a pop sensibility beneath the noise despite the lo-fi approach, which isn't too far away from the way the Jesus & Mary Chain melded pop with darker and much more abrasive sounds. A livewire surprise.