Harmonious Thelonious: Instrumentals! (Bureau B)
Tranced-out experiments mesh repetitive grooves with found sounds and fragments of African folk with strangely timeless results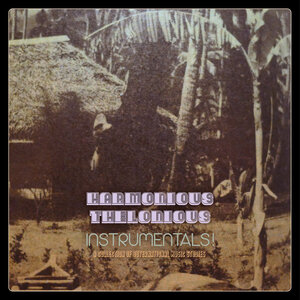 In the late 70s, studio boffin Jon Hassell dreamed up a whole new musical concept: the 'fourth world'. In it, so-called 'first world' studio technology looped, manipulated and quoted various non-Western sounds and folk musics to create a new, culturally hybrid virtual space. Though this was a right sod to put into practice in the days before samplers, it inspired Brian Eno and David Byrne's ace and vastly influential collaboration
My Life In The Bush Of Ghosts
, and arguably kickstarted a forward-thinking age of sampladelia, electronic experimentation and musical globalisation.
Four decades on, the idea remains a lot more fun than it sounds, and is still going strong. In honouring the tribal, ritual, consciousness-altering antecedents of pretty much all music, it laid the groundwork for the archaic dancefloor revival that is house and techno music in its many forms. It also inspired much ambient music, as well as all manner of points in-between. Dusseldorf producer Stefan Schwander (aka
Harmonious Thelonious
) has collected eight one-off tracks, all around five minutes long and recorded for various labels, where he melds minimalism, Detroit techno and African folk musics such as Ghanaian highlife, Senegalese folk and Moroccan flute music. It was released at the start of the month. So, has he truly created new soundworlds, or is this just techno with bells on?
Opener Ayranman conjures up a rave out in the rainforest, or maybe the veldt, as minimal beats and keys are layered with insect noises... techno meets David Attenborough! Matters get more musical on Beilaufige Muziek. It's groovier and trancier, with nicely rolling rhythms and chunky analogue keys with a definite touch of Terry Riley (the high priest of 60s minimalism, check out his mellifluous masterpiece A Rainbow In Curved Air).
The hypnotic Halb Ding adds quasi-Baroque keys, banging late 80s drum machine patterns reminiscent of mid-period, acid-house-inspired New Order and by the time the snake-charming horns come in, we are in the middle of a funky digital souk. The best track so far. Harmony Labelle is simpler but effective, consisting of not much beyond a cool title, really nice beat and a yelping sampled vocal.
Abel is a real grower, a tad similar to the opener but hypnotic in its repetition and featuring some funky percussion. Meanwhile, Apakapa is a progressive stormer, its bloops, beats and blaring horns steeping things up a gear and giving this listener itchy feet. The album feels increasingly abandoned now: Yusuf is another ecstatic marketplace / dancefloor crossover, while closing track Some Blue Beats also hits the spot.
This is true, atemporal trance music - most of this would definitely work in a club but one can just as easily imagine these timeless pagan grooves working their magic at a rite in the desert, or somewhere off-world a couple of millennia from now.
4/5
Harmonious Thelonious Links