Haley Bonar - Impossible Dream (Memphis Industries)
Under-rated Twin Cities stalwart issues excellent new set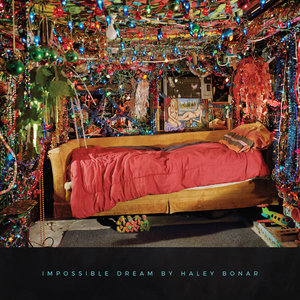 Discovered by Low guitarist singer/guitarist Alan Sparhawk at the age of 18 in a local club in Duluth, Minnesota, Canadian born, Twin Cities based singer-songwriter
Haley Bonar
has spent the past fifteen years assembling an impressive album catalogue.
Possessing some of the fellow Minnesotan trio's knack for subtly underplayed melodies, Bonar is similar to storied fellow North American songwriter Jenny Lewis, their careers experiencing slowly snowballing success over a series of albums, with Bonar's most recent, 2014's
Last War
making several end of year lists.
Impossible Dream
, the singer's seventh LP (not including collaborations) comes wrapped in a cover that looks more akin to a novel than an album, understandable given the set's sequence of character studies and autobiographical songs driven by excellent lyrics.
With an impressively wide range of material on offer, a pair of of lap-steel embellished alt. country tracks, Hometown and Your Mom is Right in addition to the Joni Mitchell-esque I Can Change demonstrate the album's more pastoral side. Churning lead single Kismet Kill showcases the album's more strident tracks alongside Stupid Face that deals with relationship power struggles hinging on the accusatory chorus of '
If I could be exactly like you/I would too
', a fizzing power pop gem that would slot seamlessly onto the soundtrack of genius Winona Ryder series
Stranger Things
. Similarly, the stomping Called You Queen and the Bo Diddley bounce of Blue Diamonds Fall are New Wave inspired rushes, the latter imbued with the quirky energy of
Tusk
-era Fleetwood Mac.
Jealous Girls underscored by weeping 1980s synths and massively reverbed drums is an evocative sketch of '
Another shitty bar/In another shitty town
' while the understated all-too-brief Skynz based around a series of refracted guitar chords is haunting, sumptuous pop. The lightly skipping rhythm of Better Than Me meanwhile consisting little more than acoustic guitar, synth and drums backing a double tracked vocal is possibly the best thing here.
Brilliantly concise, whipping through ten songs in just over thirty minutes
Impossible Dream
is a well-wrought demonstration of Bonar's considerable talents and the perfect entrée for newcomers to the singer.