Haiku Salut - Tricolore (HDIF)
Francophone inspired instrumental trio deliver sparkling debut LP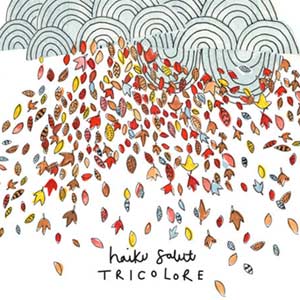 It's hard to to think of a more fitting title for this debut full-length outing from
Haiku Salut
. Gemma Barkerwood, Louise Croft and Sophie Barkerwood wear their Francophone influences on their stripey sleeves, but also revel in bringing together different hues to form something whole and with a unique identity.
Now re-released after a limited release earlier this year, this album marks something of a departure from the crystalline indie-pop usually associated with the excellent HDIF label (which, in the past, has brought us the likes of Butcher Boy, Pocketbooks and Antarctica Takes It!) - weaving together piano, glockenspiel, wheezing accordion, coquettish rhythms and analogue synth sounds to create a giddy, ambitious and accomplished record. 'Sounds Like There's a Pacman Crunching Away At Your Heart' in particular combines these elements to great and bizarrely poignant effect, flitting from bruised, pastoral folk to 8-bit torch song to the dance floor, before a mournful, piano-led denouement.
Elsewhere, each of these elements takes its turn, with the magpie-like three-piece dabbling in near-baroque piano ('Watanabe'), lilting Britfolk ('Rustic Sense of Migration') and the sound of an autumnal day in the Derbyshire countryside ('Train Tracks For Wheezy'). Tricolore sounds at its best when they're using very different textures as part of one broad palette - 'Glockelbar' melds music box melody and pulsing beats with simmering electronics, like Dosh going hill-walking in rural England, and single 'Los Elefantes', with its melancholy piano and accordion, channels Yann Tiersen before going off in another direction entirely.
The record is book-ended by 'Say It' and 'No, You Say It' - the former's half-minute sets the tone for a gentle, off-kilter suite of songs, while the latter reprises that opening melody and pushes it as far as it can go. It's a beatific concoction of picked melody, twinkling music box sounds and quietly skittering rhythms, which slowly build until the half-way point, where the song evolves into thumping folk-trance. A delightfully unexpected coda, it underlines the imagination and scope here - that the trio shift gear so readily without it sounding jarring is a rare achievement indeed.
There's a freewheeling eclecticism and playfulness at the heart of
Tricolore
, resulting in a joyous amalgam of sounds and contrasts. With their duality of organic and often rustic instrumentation, combined with carefully layered electronic textures, Haiku Salut often recall the digital folk of Tunng's earliest output, as well as Tiersen's soundtrack compositions, but have forged their own wonderful debut brimming with ideas and great musicianship. It's a magical collection of songs, and one you should seek out immediately.