Gringo Star - The Sides And In Between (Nevado)
Atlanta indie/garage rock quartet maintain the quality on LP number four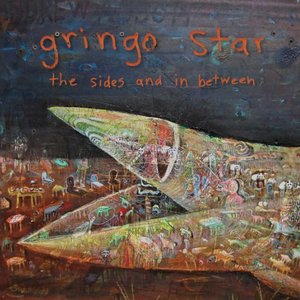 Like The Kinks, The JAMC and Oasis before them,
Gringo Star
revolve around two brothers, the set-up hopefully lacking the sibling bust-ups that have afflicted the Davies, Reid and Gallagher bros over the decades. Founded by Nicholas and Peter Furgiuele, the Atlanta based crew have been ploughing their furrow of scruffily melodic garage rock since the appearance of their eponymous EP in 2007, with
The Sides And In Between
their fourth album.
With a name suggesting a Southern Fried version of the Fab Four, the moniker is well chosen as the Atlanta group deal in 1950s/60s inspired indie rock that matches melody with the rawness of that era's production.
Inspired by their Grandfather who was posthumously inducted into the Rock N' Roll Hall of Fame for his work promoting rhythm and blues artists in the 1950s, his record collection clearly had a huge influence on the Furgiueles' own. Indeed, giddy waltz-time rush Come Undone and sax aided vinyl exclusive Walk Away both powered by staccato piano chords showcase the band's roots in rock n' roll's primordial era.
With the reverbed vocals occasionally calling The Walkmen's Hamilton Leithauser to mind, the Gringos chugging garage/indie rock template allows plenty of room for variety, the spacious unfussy arrangements benefitting from their recorded live ambience.
While
The Sides…
sometimes feels as though it could have been issued at any point over the past half century, with several tracks conjuring up the vision of watching the songs on
Shindig!
or b&w episodes of
American Bandstand
, the group sidestep retro fetishism by never being indebted to any one band. Instead the quartet are easily able to incorporate differing styles into the mix, with the charming Heading South being indivisible from the image of a doo-wop group gathered around a single ribbon microphone. Elsewhere the droning foundation and Eastern influenced strings of standout moment Knee Deep and the booming acoustic driven A Smile (on the vinyl edition) swagger along like The Brian Jonestown Massacre.
An entertaining patchwork of early rhythm and blues and garage rock vigour, that adds to the Georgia band's burgeoning cult appeal.