Grand Veymont: Grand Veymont (Outré)
Kosmische meets folk melodies and synth drones on highly promising debut set by French psych outfit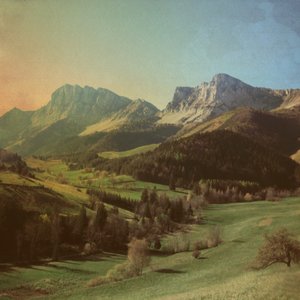 Taking their name from the highest peak in the Vercors Regional Nature Park in South Eastern France, Grand Veymont announced their arrival in 2016 with excellent Kosmische pop cut
Les Rapides Bleus
. Comprising of Béatrice Morel Journel (organ, vocals, flute) and Josselin Varengo (organ, synth, percussion, vocals) the duo's self-described 'Krautrock salon' tracks bring together drones, softly percolating synth melodies and Journel's impressive voice.
A rearranged, remixed version of the group's 2016 Bandcamp debut, the tracks weave their magic in unhurried fashion, recalling at various points the rhythmic pulse of Can and Neu! Stereolab's love of vintage synths and the more off-kilter moments of Air. Vocally, melodies seem imbued with folk music leanings of Pink Floyd's early pastoral Syd Barrett-era.
Je Cours Après Avant is a thirteen-minute multi-part epic that opens with a rising and falling organ motif and overlayed vocals that gives ample room to Journel's excellent voice. Following a gothic-tinged section on Vox Continental organs redolent of 1960s psych, the song takes flight on a unison vocal part.
Les Rapides Bleus is expansive cosmic pop par excellence, its aerated synth motifs seeping into the memory wonderfully. L' Odyssée Du Petit Parleur (Odessey of the Little Speaker) is possibly the highlight, a gentle succession of Moog riffs and chanted vocals that stretches out to the horizon. Upie led by Morel Journel's cut up and repeated dawn chorus vocal refrains share sonic terrain with St. Petersburg dream pop mavens Pinkshinyultrablast combines squelches of electrical noise with rattling percussion.
Giving the impression that there is afar more to come from the duo, until then, this highly intriguing, eponymous release is an excellent entrée to the group
4/5