Ghost Outfit: I Want You to Destroy Me (SWAYS)
Ultra-volume alt. pop from the Mancunian duo on superb debut LP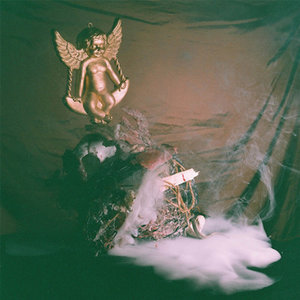 In the same way the huge success of
Have I Got News For You
can't be held responsible for the proliferation of crap comedy panel shows over the past decade or so, The White Stripes shouldn't be considered guilty for the glut of below-par rock duos that have burgeoned since
Elephant
hit the mainstream.
Because if there was ever an overcrowded field in alternative music in 2013 it's of the two-person band guitar/vox, drums variety. Whereas many of the pairings currently treading the live circuit cobble together gnarly blues riffs, trudging tempos and off-key vocals in slightly desperate attempts to emulate Jack n' Meg,
Ghost Outfit
are thankfully cut from entirely different cloth.
Signed to underground label par excellence Salford boutique set-up SWAYS Records, the duo summon up a sound in thrall to indie rock of old: Sonic Youth, The Cure, My Bloody Valentine, spiked with their own take on warped pop songs.
While Ghost Outfit's tinnitus inducing live sets bear out the pair's fondness for Industrial Records founders and in-house ear-drum manglers Throbbing Gristle, amidst the pervasive ultravoume the duo's song-writing abilities are readily apparent.
Opening gambit 'Too Soon', a maelstrom of churning guitar, Jack Hardman's submerged vocal melodies and Michael Benson's stentorian drumming firmly stamps the template for what is about to follow.
'Switch' second, the chorus providing the LP with its title achieves the feat of being melodic, dissonant and blisteringly fast all the same time, its three minute surge possibly the highpoint of the album.
The band's best known cut to date, 'WASTE' pedaling past with Chris Hoy-like rapidity, underpinned by a sped-up Mo Tucker drumbeat and fizzing guitars once it builds in momentum and clears the ground turns into a genuinely great pop moment. The clockwork riffs of 'Sleep' meanwhile stands out as the most Sonic Youth influenced cut present, a distant cousin of 'Sugar Kane' from the NYC doyens 1992 commercial highpoint Dirty.
'Words' marries a queasy fairground guitar wash harks back to MBVs totemic 'To Here Knows When' replete with a wailing Robert Smith inflected vocal. The spirit of the goth icons also haunts 'I Want Someone Else' originally found on the flipside to excellent 45 'Tuesday', the emotionally rawest track of the collection offseting a doomy axe riff with Cure-esque flourishes and funereal tempo.
'Lexicon' kicking off what commonly used to be called Side Two is slightly inconsequential, a pleasant enough delay pedal jam in search of a fully-fledged song. 'Killuhs', the longest track here delivers the most potent example of the duo's live Sturm und Drang, a turbulent loud-quiet commotion that demonstrates the tightness of the pair's playing.
'What You've Got' last but one proves to be a tad lightweight, an energetic thrash that doesn't quite coalesce, remedied by album closer 'Kids', a juxtaposition of sunburst guitar, indie disco rhythmic slam and massed chanted chorus that concludes the set on a high.
An impressive first outing for the Mancunians and a landmark release for SWAYS Records (this is their first long player) with the additional element of hopefully forcing the plethora of two-person bands out there to raise their game to similar levels.