Fontaines D.C. - A Hero's Death (Partisan)
Irish indie superstars' moody follow-up to their smash-hit debut is a thoughtful take on the old 'difficult second album' syndrome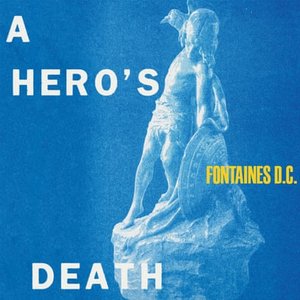 Back in indie rock's 80s / 90s glory days, every other week saw a new band dubbed 'the future of music'. Much of this was PR bullshit of course, but the phenomenon was the result of a music industry awash with cash and a big audience keen for the next big thing… providing it was white boys with guitars of course.
Nowadays, not so much. Music has moved on, few people buy records anymore, Covid-19 has destroyed the live gig scene and most exciting new music is made outside the old indie ghetto - and quite right too. However, every now and then a band comes along that stirs some of the old excitement. Dublin act
Fontaines D.C.
's debut album
Dogrel
got BBC Radio 6 and others very excited when it came out, launching them as a major live act. Now, after exhaustive touring and much soul-searching, they have returned with a moodier, more eclectic second record.
It was written, says guitarist Carlos O'Connell, 'as a reaction to the success of
Dogrel
' as the band began to feel remote from the young men who had written their debut. That feeling of disillusionment permeates pretty much the whole record, although the origin of some of these songs predates the debut. However, its largely downbeat nature hasn't stopped the band's seemingly unstoppable rise - on release it was only kept off the UK Number One spot by the surprise release of Taylor Swift's
Folklore
album.
Opener I Don't Belong seems like a statement of intent, a slow groove in which frontman Grian Chatten insists: '
I don't belong to anyone
'. It seems to tell fans and critics who were expecting a batch of Lamacq-friendly indie anthems: 'we're not that band anymore'. He doubles down on the sentiment later on the record, on I Was Not Born ('
... to do another man's bidding
').
Chatten sounds positively catatonic on Love is the Main Thing, before the hooky and sardonic
A Televised Mind
gives old fans something to cling onto, its stream of consciousness both anthemic and abstract. It still sounds pretty pissed off, and we are reminded how refreshing it is to hear someone sing in their own, authentic voice.
These are some intriguing lyrics here, as befits an album named after a Brendan Behan play, and a wider palette influenced by the likes of the Beach Boys. In the main, they are still producing a big, echoey post-punk sound naturally fitted to bigger venues however. The band's best quality is that somehow they create big, anthemic music without it being stolid or dull.
O Such a Spring is a jaded, disillusioned look back at a happier time ('
I wish I could go back to Spring again
').
A Hero's Death
is another standout, an anthem offering a selection of solutions and slogans as it looks for evidence that 'life ain't always empty'. Ace backing vocals raise it to another level. The elegant Sunny is another slowie, its singsong melancholy meshing with strings and backing vocals and harking back to 60s orchestral pop.
You get the impression that, like Nirvana and innumerable other bands, Fontaines sought success until they achieved it, then found it tasted rather bitter. This album feels like a snapshot of a band nearing burnout, who pulled back out of self-preservation. We conclude rather appropriately with No ('we all know what freedom brings / the awful songs it makes you sing'). Chatten sounds like he's sick of it all. Let's hope that the enforced break from touring has given the band the chance to regain their spark. This is a brave and interesting record.
7/10