Fever Dream: Squid (Club AC30)
London based shoegazers unveil strong second LP drawing from 1990s psych and US noise rock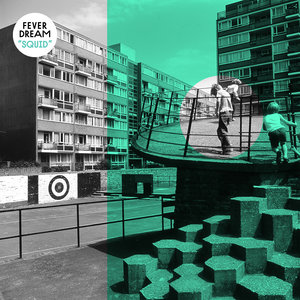 Making waves with their 2015 debut LP
Moyamoya
London alt. rockers
Fever Dream
set out their stall with the album's excellent lead single
Serotonin Hit
which came backed with a video that looked like a wonky VHS of the band playing BBC2s
Snub TV
circa 1991.
The follow up
Squid
builds on the group's shoegaze template with elements of US indie and noise rock. Something of a banner year for the sub genre, the standard for the category has vertiginously high with progenitors Ride and Slowdive delivering excellent comeback sets, with the latter's disc possibly the most consistent LP they've ever issued. The present three-piece (is there a stipulation that the majority of present day shoegaze outfits are trios, while in the 1990s they were quartets?) strongly indicate they possess the chops to follow the aforementioned acts, mind.
Featuring a cover shot of a 1960s-era 'housing estate of the future' (aka brutalist monstrosity, probably long since flattened) the motorik bass pulse/pea-soup guitar fog of Inside starts things off at a fair clip, constructed around chords that pleasantly sour in the mouth like an XL bag of fizzy cola bottles. Lead single, the wonderfully titled
Youth (Is Wasted On the Old)
is the band's finest moment to date, an FX pedal shimmer that builds in velocity and pitches and rolls like a turbulent sea.
New single Heads Will Roll flits between Pixies-style rhythm section verses before blooming into the guitar led choruses. Smashing Pumpkins, whose matchless 1990s output ranks as a touchstone influence for scores of bands at present are evoked in the mellow glide of Worms. This, along with along with Youth (Is Wasted On the Old) employ the effective device of picking up speed at key moments, proving that click tracks really aren't all that. Unity meanwhile doffs its cap to Sonic Youth, recreating the NYC noise rock pioneers' febrile guitar textures, overlaid with an effective chorus hook and airbourne harmonies that would make for a worthy third single.
While instrumental cut Fragile #2 feels superfluous and the production overall could have been punchier with greater emphasis on the low end, Fever Dream's second set is a considerable success. And while calamari can be something of an acquired taste, this Squid is an especially appetising one.