Fatoumata Diawara: London Ko (Wagram Music)
Malian superstar and famous friends collaborate to make eclectically original, beautiful, healing music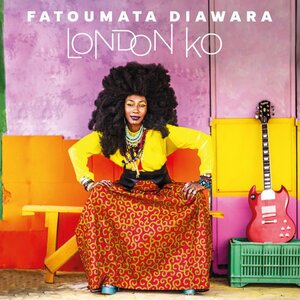 Mali gave the blues to the Western world, as any musicologist will tell you. And when Damon Albarn began collaborating with the country's musicians with Mali Music, Africa Express etc, he kickstarted a cycle of musical meetings which saw open-minded artists from both sides meet to create intriguing new syntheses, of which
London Ko
is the latest example.
Superstar vocalist
Fatoumata Diawara
has teamed up with a host of artists (including long-term collaborator Albarn, co-producer of six songs here) for an extremely uplifting set of short but sweet world soul tunes. Ancestral vocal techniques, the kora and the griot tradition coexist beautifully with an Afrofuturist aesthetic, a message of equality and a deep commitment to multiculturalism on a world scale.
London Ko
means 'open minds, open spirits', says Diawara - and it definitely delivers.
Diawara and her female backing vocalists sing mellifluous melodies over rippling guitar-lines that sound pretty darn traditional to these intutored ears. However, these classic elements are layered with pulsing, bumping deep house rhythms, bubbling 80s funk elements and the occasional mellow, heavenly interlude (Sete, with the Brooklyn Youth Chorus, and Moussoya are particularly blissful).
The production is pretty smooth in places but it's never MOR. Desert blues, jazz, late night funk, deep house and all points in between swirl together, the various elements always meshing naturally.
Nsera
, the album opener, marries an elastic groove to live drums and a typically plaintive late-period Albarn verse on the outro. An instantly welcoming sonic bubble-bath, it sets the emotional tone. This is lovely, inviting music... jump right in.
Somaw, the second tune, has a more prominent role for Diawara's collaborator, as US soul powerhouse Angie Stone huskily hymns the virtues of family to great effect. Over half the songs are credited to Diawara alone, and a panoply of sounds get a look in: the flowing, jazzy piano of Netara, Yada's spacey modernist synths, Dambe's digidub.
The gorgeously contemplative Maya is a suitably beautiful end to a real grower of an album. It's a right old treat for the ears and no mistake.
4/5