False Advertising: Brainfreeze (Alcopop!)
Mancunian fuzz pop / alt. rock trio unveil excellent new album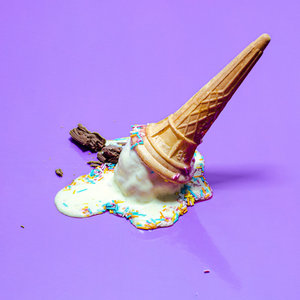 A reliably excellent source of grunge pop thrills on their singles and EPs,
Brainfreeze
sees Mancunian alt. rock troika
False Advertising
ace the long-playing format too. Opening with
Influenza
the second of three tracks pulled from the LP, the disc is stuffed full of potential 45s. With Jen Hingley and Chris Warr switching places behind the mic stand / drum kit / guitar pedals depending on who wrote the song, with bassist Josh Sellers keeping everything on track throughout,
Brainfreeze
sees the trio stretch into new pastures stylistically.
Harnessing the group's live firepower while also increasing their instrumental palette, the album features a greater focus on lead and backing vocals than previously. Alongside the harmonies to provide additional texture, sympathetic string arrangements on two tracks display the band's willingness to experiment. The product of several hundred road miles logged over the past few years, the dynamic shifts of You Said showcases the players simpatico, easing comfortably from subdued to full charge.
Uncomfortable, a highly effective skewering of people who enjoy making others squirm for no good reason, is an ultra-melodic grunge pop rush. Its competition for best chorus comes next with the politically themed We've Heard this All Before, an utterance being made at TV screens across the nation during the General Election campaign, which plaits Jen and Chris's voices to excellent effect.
Reading It Wrong, possibly based Eastern scales, led by acoustic guitars, string section and Jen's best vocals to date, works its way sideways in a curious time signature (waltz time, 4/4 with accents?) to create one of the best things here. You Weren't in My Dream meanwhile, a lullaby-esque missive that sounds as though its being played through a wax cylinder is an intriguing departure, recalling R.E.M.s habit of placing a short track at the end of Side 1.
An excellent choice for lead single,
You Won't Feel Love
crystallizes False Advertising's sound perfectly, while
Wasted Days
founded on a Soundgarden-worthy riff (think Spoonman), blasts into straight-ahead choruses. Beginning with what sounds like a ramshackle acoustic demo, news-overload targeting At the Top is the set's heaviest moment, its deliberately dragging tempo and distorted vocal something that would've won heavy rotation on nineties MTV.
Six-minute grunge blowout So Long, fading away on a elegiac piano part provides a suitably impressive conclusion to the LP. Ample proof they've mastered the album form with the innovative Scoops Ahoy style packaging underlining how much care has been taken over the venture, this particular
Brainfreeze
sends all the right electrical impulses to the neurotransmitters.
4/5