Everything Infinite - Wunder Wunder (Dovecote/Shock)
Hatched in the summer from the same egg as midday festival anthems, Wunder Wunder give a few soundbites for your pissed up puddle dancing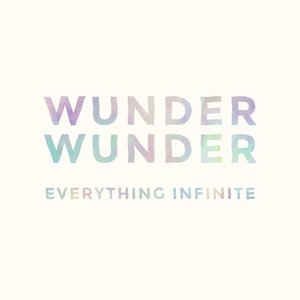 Summer festival season is here, and with it a number of songs trying to be the soundtrack to your pissed up puddle dancing. With a sunny disposition, born from a combination of their Australian upbringing and recent move to L.A.,
Wunder Wunder
have created a collection of songs to fit the bill. While not a perfect album,
Everything Infinite
is an album has plenty of hot sunshine sounds for festival season.
Album opener 'Coastline' wastes no time giving an impression of what's to come. It was recently grabbed a spot on Lauren Laverne's BBC6music show and made it into a Buzzfeed list of '63 Songs You Need In Your Life This Summer'. It's a punchy electronic bag of hot neon synth melodies followed by vocals dripping with psychedelia. The result is a song that is crafted to bring out the sun at even the most dour of festival weather.
It's these kind of sounds that bagged Wunder Wunder a support slot on festival favourites, Crystal Fighters' tour of the US. It's unsurprising that the two should find themselves joining together. After all alongside Foster the People, Grouplove and even MGMT, Wunder Wunder could well be delivering the same good time vibes as Crystal Fighters in the midday full-blazing sunshine slots at festivals.
The most convincing capture of the summer joy is the xylophone chiming and rolling in 'Wonderful Way.' It feels the most accomplished and well-crafted song on the album with a memorable maturity and a melody line that makes itself immediately familiar. The progression throughout is light, bright and, as a result of the production, seamlessly flowing. This is a 'pissed in puddle dancing' moment.
With a slant towards a funk edge, but with all the heat, 'Hail The Madmen' is a jumpy offering that jilts the album's smoothness and flow in an attempt to prevents the album from drifting into repetition.
Everything Infinite
is bursting with hot sunshine, and at times there is enough psychedelic vocal to push Wunder Wunder towards a dream pop sound. However, aside from the highlights the LP can drift and be forgotten. This aside, Wunder Wunder have an ability to channel the sunshine of their surroundings and deliver a set of summer songs to be played with sunglasses on and car windows down or to give festival season a lick of the L.A sunshine.