Euros Childs - Situation Comedy (National Elf)
Prolific former Gorky's frontman returns with ninth solo opus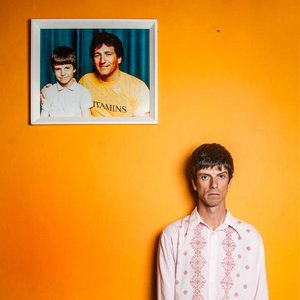 Writer's block appears to be an alien concept to
Euros Childs
. Still looking disgustingly youthful, the former Gorky's Zygotic Mynci frontman has released pretty much an album a year since the mid-90s. His quality control has remained remarkably high, and he's carved out a niche as a much-loved cult figure and life-affirmingly joyous live attraction.
The man has a knack for writing effortlessly infectious melodies, in styles ranging from folk- and country-tinged loveliness to bonkers odd-pop. His songs can break your heart, or make you break out in a delighted grin. His ninth solo album,
Situation Comedy
is still recognisably a Euros record, but there's a slight change of emphasis. Like a collection of short stories, most songs have a different narrator - and everything is not what it seems...
This is eclectic stuff. Styles include bouncy, piano-led oompah-pop (single 'Tete a Tete'), country lopes ('Daddy's Girl') and minimal, prog-length epics (closer 'Trick of the Mind'). Innovations include jazzy flute and heavenly, Carpenters-esque backing vocals on several tracks, both excellent ideas. And the range of characters includes smug owners of holiday cottages ('Second Home Blues'), wannabe wife-killers (the oddly-sung 'Brides in the Bath') and unattainable party girls ('Ooh La Oona').
There are several real gems on here. Opener 'Tete a Tete' is catchy as hell; 'Second Home Blues' swings jazzily; and 'Daddy's Girl' sounds like a touching declaration of fatherly love - until we realise he's driving off with his daughter in the boot of the car...!
Ironically, on an album largely written from other people's perspectives, the disillusioned 'Holiday From Myself' (great title) is the album's finest lump-in-the-throat moment. Euros sounds weary and cynical ('
My own voice bores me / I've heard it to many times before / Been singing the same shit since 1994...'
) However the country-tinged tune and soulful singing that these bleak sentiments are expressed in, are the best refutation of his own argument. Hang on in there mate, we think you're great!
It's not all gold: the quirk factor is occasionally overdone, as when 'Give the Girl a Hand' segues into primary school favourite 'The Peanut Vendor' (!); and the minimal but mammoth closer 'Trick of the Mind' may boast a lovely section with wordless vocals, flute, piano and guitar, but would have more impact at a fraction of the length. It's the album's only 'check your watch' moment.
So, as with most of Euros' albums, it's slightly uneven but most of it is darn good. Definitely closer to
Cheers
than
The Thin Blue Line
...