Eros and the Eschaton – Weight of Matter (Bar/None)
Accomplished, wide-ranging second offering from the Colorado indie outfit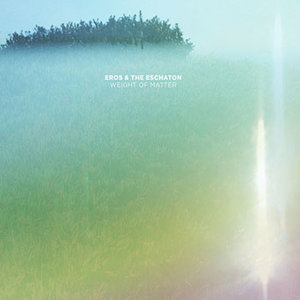 Sounding like a cross between Animal Collective and some cosmic matter from the Eighties, and at times like a straight up diatribe of demanding to return to another era,
Eros and the Eschaton
's second full length,
Weight of Matter
is a warming addition to 2016's indie albums to listen out for.
Having self-released two singles and before being picked up by Bar/none, the new jersey based label, Eros and the Eschaton have created some excitement around themselves, RXX released as the lead single from the album is initially a thundering stream of lyrics tumbling like metal down a staircase only kept from spilling over the bannister by a lead synth line as colourful as it is simple. There's lots of energy in that particular single and in its use of co-founder Kate Perdoni's vocal is somewhat of a rarity on this album, which is a shame.
The lyrics and the melody are tinged with a sadness at having missed out on significant dates of history in "
the 60s…the 70s
" or being "
a paratrooper in the 101st
". Had Perdoni's vocal been used in this manner across the album it could have made for a more visceral punk effort, with her howls finding a concluding groan of "
I wish I could have been there
".
Predominantly Eros and the Eschaton's
Weight of Matter
is a mixture of slow building synth-rock and alternative-rock. Feeling like they're still deciding between the two by choosing to focus on one method for each song; the catchy jump and powerchord shuffle of Bop Shoo Bop to a Sleep Party People xylophone riff in OMG I AM then to borderline punk effort with RXX. Band founders Kate Perdoni and Adam Hawkins have pulled their collective musical thoughts together to form an album that is impressively vast in the sounds it covers and mature in its offering.
Eros and the Eschaton Links