Emmett Finley: Emmett Finley (Big Potato Records)
The only album by rediscovered Golden Age singer-songwriter marks the death throes of the 60s in lovelorn, baroque balladry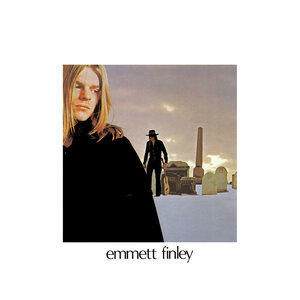 In recent years, a cottage industry has grown up around the rediscovery of albums by unknown or obscure artists of the late 60s and early 70s. But, as Northern Soul afficionados found out, all such ventures eventually fall foul to the law of diminishing returns.
Records such as Shuggie Otis's Inspiration Information and Vashti Bunyan's Just Another Diamond Day are now recognised as genuine classics. But you have to wonder, at this point, how many more gems there are to unearth.
Emmett Finley's one and only, self-titled, record was released in 1971 but was inspired by the events of 1969. Woodstock may have been a gas, but it would take take more than lying stupefied in the mud, listening to Country Joe and the Fish, to transform the culture. Vietnam raged on, the Beatles drifted apart and disillusionment with the 60s dream prompted a plague of drug abuse and a general turning inwards.
Neil Young's great early records are the ultimate example of an artist coming to terms with the comedown from that epic decade. Fragile, melancholic, sometimes bitter, 'Emmett Finley' shares many of Young's concerns - and some of the sonic features of Young's classic After the Goldrush LP, as well as those of Young's peers such as Spirit. However, understandably, it doesn't manage to reach those rarified heights.
Finley's trademark sound here combines late-period double-tracked Beatles vocals (reminiscent of Lennon in particular) with a stripped-down, live-sounding, mix of acoustic guitar, Ringo-esque drum fills, melodic lead guitar breaks and gospel-inspired backing vocals (by the Ellington Sisters). There are no ornate psychedelic touches here: this is a well-arranged, tasteful take on the classic rock sound that countless bands still pay homage to. You can imagine several of the album's melancholic, mid-paced ballads fitting on a latter-period Oasis album, f'rinstance.
Opener So Easy sets out the template for many of the tunes here. Slightly haunted late Fabs / early Big Star vocals float above a spacious, piano-and-drums arrangement. Finley tries 'to see beyond / dark and stormy weather' - and manages to make a sweet declaration of love sound utterly desolate. Several other numbers (Where He Cried, Paula's Song, Without You Now) take a similar sonic approach.
To these ears, the record is more successful when it leaves these well-crafted, slightly overfamiliar environs and gets ambitious. The eight-minute-long multi-part Gospel sees a noodly acoustic intro swell into a slightly grandiose mid-section reminiscent of Gene Clark's mid-70s prog-folk-rock opus No Other, before an ecstatic gospel rush kicks in. The song then subsides into two minutes of ambient hum.
Sky King is the one genuine earworm, a joyously hooky uptempo boogie that Finley hoped would feature his mate Jimi Hendrix. Sadly this wasn't to be, but the propulsive and unusually positive feel clashes intriguingly with what seem to be lyrical digs at Hendrix's (famously mob-infiltrated) Electric Lady studios.
This is a well put-together album and Finley clearly knows what he is doing. It is well produced and arranged without being overly slick, and Finley's vocals are easy on the ear. However, much of it sounds slightly generic, without a strong character of its own. An interesting curio however.
3/5