Emel - The Tunis Diaries (Partisan Records)
East meets West as humanitarian icon's stripped-down lockdown project mixes back-catalogue reboots with iconic alt-rock covers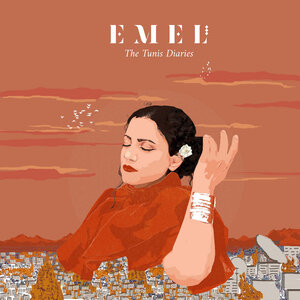 To expat Tunisian singer
Emel
Mathlouthi, this Spring's worldwide lockdown - which inspired this album - must feel sadly familiar. After her songs were banned from her country's radio stations in 2008, she moved to Paris in order to be able to live, speak and sing in freedom. People were certainly listening: her song
Kelmti Horra (aka My Word Is Free)
became an anthem of the Arab Spring and she sang at the 2015 Nobel Peace Ceremony.
Over the years, Emel has mixed traditional Tunisian folk influences with inspiration from Western acts like Massive Attack and Bjork. This album is somewhat of a departure, created back in Tunis, during lockdown, with a laptop and a classical guitar crowdfunded by fans. For newcomers, it provides a handy snapshot of her career so far. The first half, Day, reworks a selection of her earlier songs; while the second half, Night, nods to her rockier musical roots, with acoustic covers of classics by the likes of Nirvana and Black Sabbath.
Cards on the table time... like most Bearded readers, at a guess, this writer hasn't heard Elem before, and knows nothing of Tunisian folk music. However, this isn't too much of a problem: her soulful vocals and clear, ringing acoustic melodies feel timeless, speaking eloquently of suffering, resistance and hope.
Day'opens strongly with
Holm
, spacious and soulful, acknowledging and transcending sadness through song. Other songs are more architectural, as more layers are added to the one-woman-and-a-guitar format: Fi Kolli Yawmen ends on a slightly dissonant post-rock note while Merrouh and Dhalem both add a second female voice to duet with (her own?). The drama of some of these pieces has a touch of the art-goth about it, as Elem's startlingly clear and acrobatic voice ascends and descends those heart-rending Arabic scales.
Eco-anthem Everywhere We Looked Was Burning features English lyrics, a 'one minute to midnight' warning and birdsong, a frequent touch that gives the album a 'field recording' feeling - though it's nothing like as raw or imperfectly recorded as Devendra Banhart's early stuff, for instance. Sallem ends the first half on the more minimal, folky tip it started on.
Most of Night is a lot more familiar. It opens with Nirvana's chilling ballad Something in the Way, a nice enough version but without the despairing edge Kurt's vocal gives it. It is followed by Bowie's The Man Who Sold the World, which also featured on Nirvana's
Unplugged
album, slowed right down to good effect but once more missing the sinister feel of the original.
More successfully, her cover of Black Sabbath's Sabbath Bloody Sabbath transforms this forbidding slab of coked-up doom into a weirdly innocent piece, bringing out its rather pretty melody.
Somehow, Placebo make it into the icons' enclosure as Elem covers Every You Every Me. Not the album's greatest moment but it has a decent melody, we must (reluctantly) admit. She does a fine job on infinitely worthier material, Leonard Cohen's One Of Us Cannot Be Wrong, with a particularly swoonsome take on a complex and beautiful song by an artist whose best stuff is often garlanded with sensual female voices.
Noisy rock weirdos System of a Down's Aerials is short but sweet, with a menacing wordless vocal outro; and Jeff Buckley's New Year's Prayer is a great choice for someone with a love of baroque, spiritually tinged and spacious laments - a good chance to let rip, vocally. The Cranberries' Warchild concludes matters, and, a la Placebo, is better with much of the bluster - and the vocals - of the original removed.
Ultimately, this collection is all about the voice...and what a voice. Listen to it on a decent pair of headphones and let it stir your soul.
4/5