Elevant: Here Come The Cold Sweats (Loner Noise)
Alt. rock outfit return with expanded line up and retooled sound on first LP in four years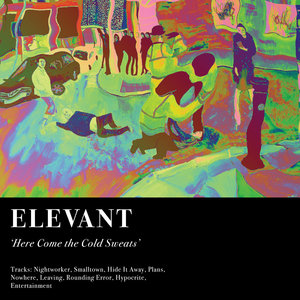 Resurfacing four years after their powerful third album
There Is A Tide
, guitar slingers
Elevant
return with an expanded line up and a re-tooled sound. Where their previous material showcased their power trio dynamic, and their ability to sound far bigger than its constituent parts, this time around the volume has been pared down and in its place a greater emphasis on textures and lyrics.
Like two of their principal influences, Smashing Pumpkins' rococo instrumentation and Soundgarden's adoption of different time signatures, the Liverpool quartet share their antecedents' desire to push hard rock somewhere different.
The recruitment of new six-stringer Oli Cummins is less to do with now being able to crank the decibels up than to provide a foil to create tapestries of guitar parts with singer Michael Edward. A group with an exemplary rhythm section, bassist Hannah Lodge now also features as a backing vocalist while tubthumper Tom Shand steers proceedings with Jimmy Chamberlain-like elan.
Building from a repeated harmonic guitar figure, Nightworker achieves its aim of capturing the repetition of a production line or the hours slowly grinding past, inspired by Shand's time working night shifts. Powered by liquid guitar arpeggios reminiscent of
Meddle
era Pink Floyd, the accusatory Small Town ("
Don't you know that hatred makes you ugly?
") is the most immediate track here. Fellow highlight Plans is melodic, expansive alternative rock that possibly explains the group's time away ("
The best laid plans / Have laid me low
") that is a sterling demonstration of the quartet's new direction.
Hide It Away glances off math rock with its 5/4 time signature, a meter occasionally favoured by QOTSA, while in similar fashion Entertainment is sinewy progressive rock that takes aim at the current post-truth age ("
The truth is only an opinion now
") and the decline of trust in mainstream media.
Rounding Error
, originally released as a single in 2018 reappears here, its spotlighting of the welfare state particularly relevant in an era of furloughs and spiking unemployment figures.
The LP takes a moodier turn with Leaving, a brooding, atmospheric piece that consists of Edward accompanied by solo electric guitar and low rumbling FX while the noir-ish Hypocrite sets the sour notes of a dissonant guitar part against a heads down rocker. Clear proof the time away has sharpened their skills, the second phase of Elevant's voyage starts here. Welcome back.
8/10